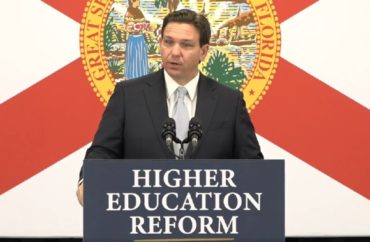 Legislative proposal will push back 'against the tactics of liberal elites'
Florida Republican Governor Ron DeSantis unveiled his 2023 legislative proposal today. It includes a ban on "diversity, equity and inclusion" initiatives at public universities as well as an expansion of classical education that teaches about Western Civilization.
The Republican governor's ideas will "further elevate civil discourse and intellectual freedom in higher education, further pushing back against the tactics of liberal elites who suppress free thought in the name of identity politics and indoctrination," according to a statement from his office.
The statement elaborated further:
Amongst its many provisions, the legislation will ensure Florida's public universities and colleges are grounded in the history and philosophy of Western Civilization; prohibit DEI, CRT and other discriminatory programs and barriers to learning; and course correct universities' missions to align education for citizenship of the constitutional republic and Florida's existing and emerging workforce needs.
DeSantis also proposed further funding for the New College, a Sarasota-based university where the governor appointed right-leaning academics and experts including investigative journalist Christopher Rufo and Matthew Spalding, a Hillsdale College professor, to trustee positions.
Gov. DeSantis said he wants to see the state "build off of our higher education reforms by aligning core curriculum to the values of liberty and the Western tradition" and "eliminating politicized bureaucracies like DEI."
Instead, Florida will increase "the amount of research dollars for programs that will feed key industries with talented Florida students, and[empower] presidents and boards of trustees to recruit and hire new faculty, including by dedicating record resources for faculty salaries."
Further details are laid out in a fact sheet from the administration.
The Republican governor's administration previously sought details on the DEI spending by public universities in Florida as well as information on services provided to transgender students.
Nearly 30 Florida college leaders announced they would not push critical race theory.
MORE: New 'Western Civilization' center planned for University of Florida
IMAGE: Ron DeSantis/Facebook
Like The College Fix on Facebook / Follow us on Twitter