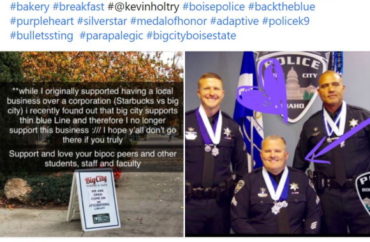 Claim alleges a pervasive anti-law enforcement bias
A coffee shop owner who left Boise State University last year after activists complained about her support for police has filed a tort claim against the college seeking $10 million in damages.
The March 24 claim, which is a precursor to a lawsuit, alleges slander, contract interference, fraud, and violations of constitutional rights, among other things.
Sarah Jo Fendley is owner of Big City Coffee, a shop in Idaho's capital city that closed its brand new extension on the Boise State campus in October 2020.
It was widely reported at the time that the closure happened because of Fendley's support for Thin Blue Line, a nonpolitical campaign to support police officers.
Fendley had expressed support for police officers for two specific larger reasons, according to the claim.
The first reason is that "As a single woman running a business in a sometimes rough neighborhood, the police have assisted her in many potentially dangerous situations over the years and she is appreciative of such assistance," the claim states.
It also notes that Fendley's fiance, Kevin Holtry, is a cop who caught five bullets in the line of duty, making him wheelchair-bound.
Support for law enforcement became "a passion for Fendley and one to which she is deeply committed. She donates money, volunteers her time, and continues to display a small Thin Blue Line emblem on the door of her downtown restaurant," the claim states.
Big City Coffee contracted with Boise State's general food services contractor Aramark to add a store on campus after the university decided it would rather have a local vendor than Starbucks serve its students' caffeinated needs.
Big City Coffee's Boise State store opened in September 2020. That same month, its existence was a point of contention at an Inclusive Excellence Student Council meeting, which is an official activist arm of the student government.
"Big City is very supportive of the Thin Blue Line which we know is not supportive of people of color," one student said at the meeting. "I believe that they should have never been brought to campus and if it can be reversed it should be."
There were also social media posts and other uproar about its presence on campus.
The coffee shop closed up a month later after the complaints led to an October 22 meeting with Fendley, Holtry, two university vice presidents, and a representative of Aramark, among others.
What was said in that meeting is disputed.
Fendley alleges in the claim that the meeting was an ambush aimed at causing a breach of contract, that her normal contact person with the school was barred from attending, and that when she asked if the school would be willing to back her up in the face of unfair criticism, Vice President for Student Affairs Leslie Webb said, "That's not going to happen."
According to the complaint, the Aramark representative suggested as a compromise that Big City Coffee close the campus extension until January to let things cool off. Fendley asked if Boise State would support the coffee shop after that cooling off period. Vice President of University Affairs Alicia Estey allegedly replied, "I think it's best if we part ways."
Boise State is unwilling to talk with The College Fix about that meeting, for legal reasons.
"Boise State University has received a Notice of Tort Claim from Big City Coffee. The university does not comment on potential or pending litigation," director of media relations Mike Sharp said in an email.
However, before the tort was filed, Boise State President Marlene Tromp characterized the meeting as not an ambush but rather an invitation to dialogue.
"We wanted to be a part of there being a conversation about [policing]. But I also understand, there's a lot of hurt and pain in these conversations on both sides, and we can't force people to talk with each other when they're not ready," Tromp told KTVB7 News in October.
The complaint also alleges that Boise State knew about but concealed student activists' objections to Big City Coffee moving onto campus before the shop opened its doors.
"Had [Boise State] not concealed this critical information, Fendley/BCC may have elected not to open the second location, not borrowed over one hundred thousand dollars (during a global pandemic), not purchased equipment, or had the opportunity to take other measures to mitigate the damage that she and [Big City Coffee] would ultimately suffer," it says.
The intellectual climate at Boise State
The complaint argues that there are progressive intellectual currents flowing from Boise State that are allegedly being encouraged by university president Tromp.
"A review of president Tromp's statements and positions, both before and during her tenure at [Boise State] leaves little doubt that she is…fully committed to the social justice movement," the complaint states.
"Although diversity and inclusivity sounds benign on its face, in practice [Boise State's] mission is anything but, and its implementation, rigid and unforgiving, has a hard edge when applied to people, businesses and ideas with which its opponents disagree."
The document points to the website for Boise State's Inclusive Excellence Student Council, which stirred most of the trouble for Big City Coffee on campus. The group was "created to continue the legacy work of student activists at Boise State University," by its own description.
The IESC is the activist arm of the Associated Students of Boise State University. Associated Students impeached elected president Angel Cantu in November after he stood up for the rights of Fendley and Big City Coffee and against some of the anti-law enforcement pressures of the IESC, reported the Boise State student newspaper The Arbiter.
The tort claim cites at least one campus figure who stirred up sentiment against the coffee shop. It names Jeremy Harper, who has in the past called for people to boycott Big City Coffee and charged the business with "reinforc[ing] the white supremacist belief that police are above criticism" on social media.
The university's Andrus Center for Public Policy lists Harper as an "instructional consultant for inclusive teaching" for the BUILD program. Harper's bio states, "Jeremy is a queer, multiracial Black educator with a background in teaching, violence prevention, and community organizing. Jeremy has an MA in Gender and Cultural Studies and has worked at Boise State since 2014… Above all, Jeremy is passionate about building safe, inclusive communities where every member has the support they need to be successful and nobody feels disposable."
Additionally, the claim mentions Terry Wilson, a former Boise State adjunct professor and current Black Lives Matter activist who was arrested on March 23 for allegedly "defacing a statue of Abraham Lincoln in a Boise state park."
Wilson complained that his arrest was unnecessarily violent, reported the Idaho Press.
Harper did not reply to an email asking if he had anything to say about Big City Coffee or the coming legal proceedings.
The College Fix asked Fendley if she had anything to say that wasn't already covered in the document. She wrote in an email, "I can't comment — I am sorry I can't help you — wish I could."
MORE: Boise State students bully coffee vendor off campus for supporting Thin Blue Line
IMAGE: Facebook screenshot
Like The College Fix on Facebook / Follow us on Twitter