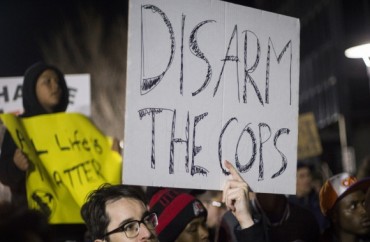 College Fix analysis found nearly 50 separate efforts to disarm, disband or defund university police at various campuses across U.S. over last six months
At colleges and universities across the nation over the last six months student activists have made demands that campus police be either disarmed, disbanded or defunded — among other measures — in a wave of anti-police sentiment that has swept the country in the wake of the George Floyd protests.
A College Fix analysis of news articles, social media posts and other online documentation found that there have been at least 43 such efforts through protests, petitions and other measures since June.
Most of these undertakings took place in June, with 13 protests, as well as in October, which saw 10, and July, which had 11. In August, there were five and in September there were four.
Calls to disarm or defund campus police are not new to college campuses. Many democratic socialist campus clubs have led such efforts over the last several years.
However, many of these efforts in 2020 ran parallel to the protests and occasional riots seen in American cities after the death of George Floyd in police custody in May.
The campuses represented in The College Fix survey run the gamut, from Ivy League institutions to large public state schools to private liberal arts colleges.
In several cases in these recent instances, democratic socialist clubs teamed up with Black Lives Matter campus activists and other groups representing marginalized communities to lodge the demands against university police.
These actions from students and faculty alike are motivated by the belief that policing is one of many systemic tools used by oppressors, activists say.
Cops under fire: 43 protests since June at colleges nationwide target campus police officers by The College Fix on Scribd
The movement is billed as a solution to police brutality and a way to improve communities by defunding police and reallocating funds from police to their communities for resources such as counseling and other mental health interventions.
But others have argued that the "solution to police brutality is better policing," and an increase in police funding for improved and advanced training would improve officers' performances.
Of the schools that made the list, at least two have taken action against campus cops.
Portland State University decided in August to disarm their campus police officers, having them instead carry "non-lethal tasers" when on patrol, a measure that is "the first step to re-imagining campus safety," according to Oregon Public Broadcasting.
Temple University has halted its funding of the Philadelphia Police Foundation. According to the school, these funds will now be used to bolster social justice programs on campus.
And over at the University of Minnesota, administrators decided to cut ties with nearby Minneapolis Police Department.
According Inside Higher Ed, the school will no longer contract MPD for assistance for large-scale events such as football games and concerts, limiting interactions between MPD and university police to just "joint patrols and investigations," a letter from President Joan Gabel states.
That decision was made in May, but the university is still facing calls to defund campus police. The Black Student Action Committee "has called for the disarming and defunding of the University's police," the Minnesota Daily reported in July.
Meanwhile, officials at California State University Fullerton began talks in October to rethink their future with university police.
Also, among the list of protest sites are five of the eight Ivy League schools, including Cornell, where earlier this year a professor was publicly censured by the dean of Cornell Law School after criticizing the Black Lives Matter movement.
Faculty representing all 10 University of California campuses have also joined in through an effort called UC Cops off Campus. The group states that its aim is to have all police removed from University of California campuses by September 2021.
MORE: UChicago activists vow year of protest without 'peace or quiet' after school refuses to defund police
IMAGE: Shutterstock
Like The College Fix on Facebook / Follow us on Twitter