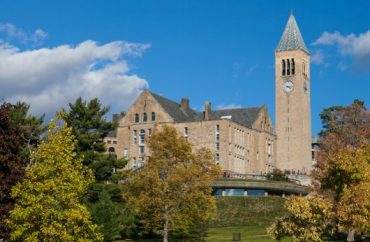 A recent series of arson attacks at Cornell University has prompted campus leaders to threaten what they call "community billing" in an effort to protect the school.
It is unclear what is meant by the measure, except that the entire Cornell community would somehow be punished — that is, financially responsible for — the actions and damage of the arsonist or arsonists, who remain unidentified by authorities.
"[I]f destructive behavior continues and those at fault do not come forward, we will implement community billing for damage done," states a Jan. 31 email from the school's Housing and Residential Life office.
Cornell has experienced a number of arson attacks since December, according to My Twin Tiers. Resident hall furnishings such as furniture, carpet and a bulletin board had reportedly been set on fire on three separate occasions over three days.
The subject line of the email regarding the crime spree was titled "Respecting One Another and our Residential Communities." It stated in part:
While this is certainly a stressful time for everyone, it is no excuse for the destruction and vandalism, including arson last semester, that we continue to experience in our residential communities. The destruction of property indicates a dangerous disregard for the behavioral guidelines that we established to protect the public health of the Cornell community. Those who take part in these acts comprise just a tiny fraction of our population, but their actions create a hostile living environment for others and have the potential to instill fear and further aggravate feelings of stress and anxiety among community members. Further, arson has the potential to put students in immediate physical danger. We do not know the motivation, but we do know that nothing is worth this risk to the health and safety of your neighbors. …

We recognize that it may not be possible to locate those who committed these acts, but we still must make the repairs. To share an example, on December 2, 2021, the Court elevator was vandalized resulting in repairs of $8,197.50. To that end, if destructive behavior continues and those at fault do not come forward, we will implement community billing for damage done. We do hope that it will not come to this.
The memo was signed by Ryan Lombardi, vice president of Student and Campus Life, and Pat Wynn, assistant vice president of Student and Campus Life.
In response to the "community billing" threat, The Cornell Review, a center-right student news outlet, described the administration's response as "groveling."
"Groveling before suspected criminals is unbecoming of the leaders of Cornell, an institution with a rich history and one of the top-ranked universities in the world. Further, and perhaps even more importantly, why should the onus for such crimes be placed on the entire student population? Such a suggestion is completely unjust, unfair, and wrong," wrote student Joe Silverstein, the Review's editor.
"It is Cornell's duty to protect its students and maintain a safe campus. They are failing in that obligation, and they are allowing rugs, couches, and doors purchased with our money to be burnt to ashes. Now they threaten more fees for everyone because they are incapable or unwilling to catch a select few low-life thugs?"
Speaking to The College Fix via email Wednesday, Silverstein said that he would seek legal counsel should Cornell attempt to utilize community billing.
"It is unclear if Cornell can legally charge all Cornell students for the dangerous crimes of a select few, but I'm eager to find out. If Cornell attempts to charge us for damages committed by these thugs, I'll immediately acquire an attorney and file a lawsuit," he said.
"Arson is a dangerous crime that threatens the lives of Cornell's students and workers, and it is completely unacceptable. The whole administration has been pathetic in their response to these heinous crimes," he said.
"Their response epitomizes weakness and incompetence. Instead of begging the arsonists to stop, the university should install cameras in common areas and invest more money in law enforcement."
Cornell University media affairs did not immediately respond to a request for comment.
Editor's note: Joe Silverstein also writes for The College Fix.
MORE: Cornell to hire dean to advance 'racial justice and equity' on campus
IMAGE: Shutterstock
Like The College Fix on Facebook / Follow us on Twitter