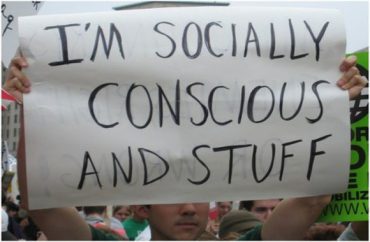 Cornell University fossil fuel divestment protesters took to disrupting traffic on Monday afternoon — during rush hour — and then appeared marvelously perplexed at the reaction.
Students involved with Climate Justice Cornell "occupied" two locations near campus "where they faced angry motorists," according to The Cornell Daily Sun.  
To no one's surprise (except those protesting), motorists yelled at the CJC to get out of the way, with one driver shouting (gasp!) "Make America Great Again" and another "I don't care, I'll run them over."
Hilariously, CJC's Nadia Vitek said the group was "doing its best" not to impact people uninvolved with "the decisions we are against." That must be why CJC chose to block traffic during the busiest part of the day!
Also hilariously, Vitek seemed surprised by Cornell cops' reaction to the CJC protest, which included a protester running in front of a car trying to get through the blockade: "This is the most aggressive that CUPD has acted towards us," she complained.
The CJC protesters allowed multiple TCAT buses through the North and South Campus bridges, as they have previously done. The protesters said they supported public transit as an alternative to individual cars, and generally aimed to minimize their impact on people and systems that they do not disagree with.

"The TCAT is not doing anything wrong," Vitek said. "We didn't want to disrupt that system."

Despite frustration with disrupted traffic, Vitek said she thinks CJC's tactics are positively impacting the likelihood that Cornell will divest from fossil fuels by raising more awareness on the issue. …

Vitek added that most students had "no idea" when they thought of fossil fuel divestment last year. Now, she said, divestment has become a "hot topic" on campus.

"That type of awareness — and the anger at the administration that comes with that awareness — is how we will win," Vitek said. "A big part [of our mission] is awareness, as well as disrupting business as usual."
There's no word on whether Vitek and company allowed electric and hybrid vehicles to pass through (or if they even know such vehicles exist), nor if they permitted passage to those trying to get somewhere important … like the doctor's office.
And what about delivery vans? EMT trucks? Maintenance vehicles? Does CJC "support" these?
A month ago, CJC and others snarled traffic in downtown Ithaca, New York while protesting, and several individuals were arrested for demonstrating at a Chase Bank branch.
MORE: Cornell climate activists 'escalate' demands, give admins deadline
MORE: Cornell oceanography class turns student into vegan, climate activist
IMAGE: Sam Felder / Flickr.com
Like The College Fix on Facebook / Follow us on Twitter