The Counseling and Psychological Services at Brigham Young University yesterday offered a "safe space" to students and community members who were affected by "racist" (and anonymous) online comments.
The comments came in during a February 6 panel regarding the experiences of black immigrants in the United States. The panel's keynote speaker, Zambia native Sherinah Saasa, noted that despite America's "blessings, opportunities and freedoms," people from Africa face "misperceptions of their homeland, racialization and isolation."
Other speakers echoed Saasa's sentiments.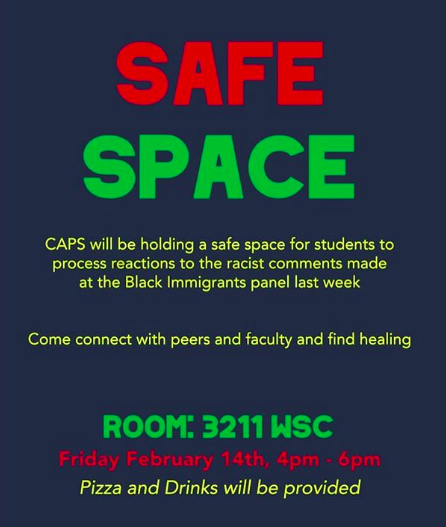 According to The Daily Universe, people could submit questions online during the panel "which many, but not all audience members could see." Some comments that came in were considered "racist" and "clearly meant to antagonize and demean black people," Africana Studies Program Director Leslie Hadfield said.
"Why do we celebrate Black history? Why not Mexican history? Or white history?" one commenter asked. Another wrote "Why do we act like all black people don't get treated well? There are also white, Mexican, Chinese, and other races not getting treated well."
These, and others arguably more insensitive, were noted by BYU student Grace Soelberg on Twitter:
— Grace Soelberg (@SoelbergGrace) February 7, 2020
Professor Hadfield said she believes the questions came from "at least two people in the audience."
The university and progressive campus community reacted in the usual fashion: denunciation and claims that BYU needs to do more regarding race relations.
We are unable to determine the identities of the commenters, and if they are BYU students or not, but regardless, these are important issues for us to continue to address as a campus.

— BYU (@BYU) February 7, 2020
Ethiopian sociology graduate student Kirstie Weyland complained that "nothing has been resolved with this issue and BYU has failed to do anything aside from tweeting that they don't endorse racism. We are angry and hurt and not healing from constant racial profiling."
Black Student Union President Israel Selway added "We need time to heal, to regroup, to be together as a community."
BYU informed students "who witness racism or white supremacy on campus" to report it to the Dean of Students Office  … or campus police in cases of "immediate danger."
MORE: LGBT groups try to nix BYU's entrance into the Big 12 Conference
MORE: Jesus wouldn't wear a 'man bun,' so BYU banned 'em
IMAGE: Thinglass / Shutterstock.com, Instagram screenshot
Like The College Fix on Facebook / Follow us on Twitter