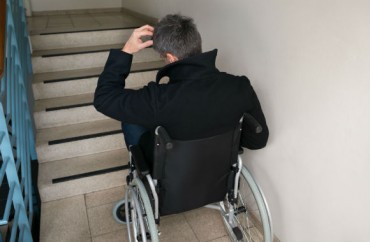 Disabled students already did worse, and then COVID happened
The University of California stopped requiring SAT or ACT scores earlier this year, but it didn't matter to a state judge, who has banned the university system from even considering performance on the standardized tests in admissions.
Alameda County Superior Court Judge Brad Seligman imposed a preliminary injunction on Monday, based on the theory that disabled students can't benefit from the standardized tests to the same extent as other applicants.
Before suing, anti-testing activists left out any explicit mention of students with disabilities. Instead they called the tests racist and said they discriminate against applicants "who can't afford test prep classes" or face "other unfair obstacles."
But COVID-19 shutdowns gave their lawyers an opportunity. Seligman wrote:
While [plaintiffs] decry the asserted racially discriminatory and classist impact of the tests, their primary argument is that the current "test-optional" policy at most of the UC campuses denies admissions applicants with disabilities meaningful access to the additional admission opportunity that test-submitters will enjoy, in large part because they have not taken these tests and will not be able to take them with appropriate accommodations during this Covid-19 pandemic. In short, students with disabilities are denied the same option and second chance for admissions that non-disabled applicants enjoy in the test-optional regime.
The judge cited "restrictions in the availability of test-sites." The practical result for disabled students is that their "ability to obtain accommodations or even to locate suitable test locations for the test is 'almost nil,'" he wrote, citing a declaration submitted by an expert for UC, William Hiss.
Hiss co-authored a 2018 report on how test-optional systems work that both sides in the litigation have cited. "The experts draw different conclusions from the data," which did not include UC, Seligman wrote.
While the judge agrees that the data "do not demonstrate that, in general, non-submitters in the pre-Covid-19, non-UC world were disadvantaged by a test-optional admissions process," he cited the admitted dearth of research on how disabled applicants are affected.
MORE: UC stops requiring SAT or ACT
So-called learning differences/disabilities students were estimated to be 4-7 percent of the applicant pool in the test-optional study, and "may be greater," Seligman claimed. Such students score lower on these tests even with accommodations.
The judge cited the campus-by-campus flexibility in the test-optional system. When he heard oral argument, the Berkeley, Irvine and Santa Cruz campuses had banned considerations of the tests, with the rest going test-optional.
UC argued that "the absence of a test will not be held against applicants" and that admissions officials "will be trained not to do so." Yet its counsel admitted at the hearing that "test results can only help, and never hurt an applicant," making them a "plus factor" for those submitting tests.
Seligman said plaintiffs were likely to succeed on their claims, which are based on California laws that incorporate the Americans with Disabilities Act and require "meaningful access" for disabled students.
Though UC is correct that the plaintiffs can't point to data that show "adverse impact" to non-submitters, the plaintiffs don't need proof of "ultimate impact" under the ADA. The point is that they can't avail themselves of the "plus factor" or "second look" that submitters enjoy.
The judge flatly claimed that the "efficacy of the tests" at measuring academic achievement "is at best minimal," without citing any evidence. He simply said that UC "does not seriously argue that the test is a valid and effective means of determining admissions."
Seligman also mocked what he termed the "chaos and confusion" argument by UC: "The pandemic has already disrupted the admissions processs – by limiting test availability, disputing [sic] the final semester of high school seniors' classes, precluding counseling and the like."
Public Counsel, the lead law firm in the litigation, praised the ruling for putting "an end to racist tests that deprived countless California students of color, students with disabilities, and students from low income families of a fair shot at admissions to the UC system."
Letting students submit standardized test scores treats disabled students "as if they were disposable and of no value to the UC system," said Mark Rosenbaum, director of its Opportunity Under Law project. He insinuated the victory was somewhat pointless, however: "There's never been such a thing as a level playing field to admissions for our most underrepresented students, but this ruling at least evened that field a significant bit."
The ruling may have a downside for universities that use racial preferences in so-called holistic admissions. The judge knocked down UC's claim that disabled students could benefit from its holistic admissions process, pointing out that test submitters enjoy a plus factor that others don't.
h/t Inside Higher Ed
MORE: Online SAT alternative sees massive spike during COVID-19
IMAGE: Andrey Popov/Shutterstock
Like The College Fix on Facebook / Follow us on Twitter