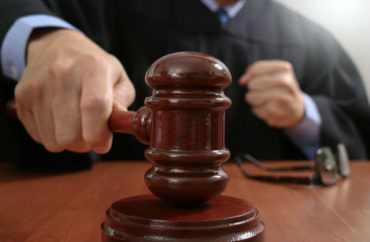 ABA should stop 'asking states to impose this unconstitutional rule'
Zach Greenberg says awful things for a living. He doesn't (necessarily) believe them.
The Philadelphia-based lawyer quotes the awful things other people say, sometimes taken from court decisions, when he gives legal presentations on controversial speech and the First Amendment.
His career, reputation and very sanity are threatened by newly amended "rules of professional conduct," approved by the Pennsylvania Supreme Court, that could get lawyers investigated and punished for the subjective offense of "manifesting bias or prejudice."
The Foundation for Individual Rights in Education lawyer went to court against the Pennsylvania Supreme Court's Disciplinary Board and Office of Disciplinary Counsel to stop the rules from taking effect. The defendants argued Greenberg was stupid for thinking he could get in trouble under the new rules.
Who's stupid now?
A federal court issued an injunction against the rules Tuesday, the day they were slated to take effect, finding they "violate the First Amendment" – full stop.
In a tweet thread celebrating the decision, Greenberg quoted a passage expressing amazement that "those who are most educated and encouraged to engage in dialogues about our freedoms, are the very ones here who are forced to limit their words to those that do not 'manifest bias or prejudice.'"
The Pennsylvania rules are based on the American Bar Association's Model Rule 8.4(g). First Amendment experts such as UCLA Law's Eugene Volokh have been denouncing the language for years, and Greenberg asked the ABA to stop "asking states to impose this unconstitutional rule" following the court order.
Greenberg (left) argued that the rules would encompass ordinary parts of his work for FIRE and educational activities with the First Amendment Lawyers Association, since they only exempt "advocacy" in the sense of representing a client.
What Greenberg does at "continuing legal education" events, however, is more in the vein of "academic advocacy" – arguing in favor of certain legal positions, not tied to a client.
In doing so, he discusses "controversial and polarizing issues such as hate speech, regulation on college campuses or online, due process requirements for students accused of sexual misconduct, and campaign finance restrictions on monetary political contributions," the ruling says.
Greenberg summarizes and uses language from cases "that has in the past offended, and will continue to offend, audience members," some of whom may report him to the disciplinary board for violating the amended rules of professional conduct.
As such, the rules constitute "content-based and viewpoint-based discrimination and are overbroad," violating the First and Fourteenth amendments.
Language of the rules 'will hang over attorneys like the sword of Damocles'
While the defendants claimed Greenberg didn't have standing to challenge the rules, U.S. District Judge Chad Kenney ruled it wasn't even a close call.
Kenney's own 3rd U.S. Circuit Court of Appeals and other federal appeals courts have "found a plaintiff's allegation that the law has or will have a chilling effect on the plaintiff's speech is sufficient to satisfy the injury-in-fact requirement," the judge wrote, citing two rulings this year involving Speech First challenges to university speech codes.
It would be "nearly impossible," Greenberg said, to cite and quote from First Amendment precedents without using speech that "at least some members" of the audience "will perceive as biased, prejudiced, offensive, and potentially hateful," and then file a complaint against him.
The rules also arguably ban him from mentioning "epithets, slurs, and demeaning nicknames" in his presentations and Q&A portions of events.
The defendants claimed Greenberg's argument relies on endless speculation about offending audience members who then file complaints, and that he faces "no credible threat of enforcement" based on historical practices.
Judge Kenney agreed with Greenberg, however, that the lawyer has an "objectively reasonable" fear of investigation based on his activities, citing specific past examples of lawyers hit with disciplinary and Title IX complaints for making presentations on similar topics.
Dear @ABAesq,

A federal court had finally stated what First Amendment lawyers have been saying all along: Model Rule 8.4(g) is an egregious infringement on attorney free speech rights.

Please refrain from asking states to impose this unconstitutional rule on their attorneys.

— Zachary Greenberg (@Zach2Greenberg) December 8, 2020
MORE: SCOTUS must protect pro-life student speech even if it's 'unprofessional'
The "knowingly" caveat in the rules is "immaterial," the judge continued, because "repeating slurs or epithets is arguably proscribed by the statute based on the plain language." Greenberg is also correct that the "advocacy" carveout "was plainly intended to protect those giving advice or advocacy in the context of representing a client."
Kenney said the language of the rules "will hang over Pennsylvania attorneys like the sword of Damocles":
This language will continuously threaten the speaker to self-censor and constantly mind what the speaker says and how the speaker says it or the full apparatus and resources of the Commonwealth may be engaged to come swooping in to conduct an investigation. Defendants dismiss these concerns with a paternal pat on the head and suggest that the genesis of the disciplinary process is benign and mostly dismissive.
If the defendants didn't want to infringe on the First Amendment rights of lawyers, they should not have made "words" punishable in the amended rules, the judge continued: "Defendants effectively ask Plaintiff to trust them not to regulate and discipline his offensive speech even though they have given themselves the authority to do so."
Kenney said he took the rules at face value, and that some of those offended by speech such as Greenberg's will "insist that the Disciplinary Board perform its sworn duty" to investigate those speakers.
"Even if the disciplinary process does not end in some form of discipline, the threat of a disruptive, intrusive, and expensive investigation and investigatory hearing into the Plaintiff's words, speeches, notes, written materials, videos, mannerisms, and practice of law" would lead "any attorney to be fearful" of speech or conduct in any setting that even "tangentially touches upon the practice of law," such as social gatherings around legal events.
'When the reality of the shoal hits the ship, it will not be the government left ensnared'
The judge was exasperated by the defendants' argument that the rules only regulate "conduct," noting they literally proscribe "words" and the draft history of the rules lists several types of words intended to be covered.
Told that attorneys accept greater restrictions on their speech than the general public in order to practice, Kenney retorted that such restrictions only apply in narrow circumstances such as in open court.
The rules, in contrast, apply to attorney speech far outside the courtroom, exceeding the limited regulation approved by the Supreme Court such as in solicitation of business. "Professional speech" is not an unprotected category, despite the defendants' view, Kenney wrote.
The judge repeatedly accused the defendants of trying to make him "look away" from the language of the rules. They aim to "deflect our attention" because they "had to know" the rule intruded on protected speech:
They merge "words" into "conduct" by blithely arguing that the shoal that confronts us is a mere illusion to be ignored and is simply nothing but part of the deep, blue channel. Yet, when the reality of the shoal hits the ship, it will not be the government left ensnared and churning in the sand …
As have several courts before him, and agreeing with Greenberg's argument, Kenney cited the Supreme Court's ruling in favor of Asian-American rock band The Slants against a federal law that bans registration of subjectively offensive trademarks.
MORE: Meet the rock band taking on the government for the right to offend
It's as if the defendants never read Matal v. Tam, or they would have known that making "bias or prejudice" punishable while approving expressions of "tolerance or respect" was viewpoint-based discrimination.
"As in Matal, Defendants seek to remove certain ideas or perspectives from the broader debate by prohibiting words that manifest bias or prejudice," the judge wrote. "In short, Defendants seek to impose their personal moral values on others by censoring all opposing viewpoints."
Even if Greenberg "makes a good faith attempt to restrict and self-censor," the rules leave him "with no guidance as to what is in bounds, and what is out," except to advise him "to scour every nook and cranny of each ordinance, rule, and law in the Nation."
It doesn't matter that "the government is acting with beneficent intentions," because it has created "a pathway for its handpicked arbiters to determine, without any concrete standards, who and what offends" based on its view of what is "socially and politically acceptable," Kenney continued.
"[T]his tide sweeps us all along with the admonished, minority viewpoint into the massive currents of suppression and repression."
MORE: Colleges use legal innovations to punish dissent, purge academic heretics
IMAGES: everything possible / Shutterstock.com, Foundation for Individual Rights in Education
Like The College Fix on Facebook / Follow us on Twitter