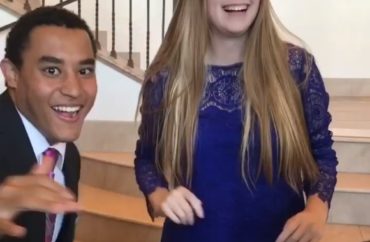 But the college is appealing
About a year ago we told you about Marcus Knight, an autistic young man with cerebral palsy and a shunt to relieve fluid pressure on his brain.
Saddleback College launched two Title IX investigations against him for his seemingly harmless requests for a "fist bump" and a selfie with female students, according to his mother Aurora.
The Knights filed a lawsuit against the taxpayer-funded institution this spring, seeking removal of the Title IX violations from his record and restrictions on his ability to participate in school activities. It accused Saddleback of due process violations, including the use of hidden evidence and ban on cross-examination in a "live evidentiary hearing."
After a trial late last month, Marcus has been cleared of all wrongdoing, former College Fix reporter Toni Airaksinen reports for The Post Millennial, citing documents she obtained.
MORE: Autistic student tried to make friends, gets banned from campus instead
Airaksinen, who also broke the story of the lawsuit, notes that none of the women who accused Knight actually filed a Title IX report or testified against him. One of them explicitly declined to testify, telling Title IX officer Juan Avalos that "I don't care what happens officially at this point." (Two ignored "multiple media requests" from Airaksinen and the third declined an interview, she says.)
After a short trial, the judge ruled that the findings against Marcus Knight by Saddleback and Avalos "should be set aside." He was excited to be able to take a selfie again, and now "wants a fist bump and selfie party!" to celebrate, Aurora Knight told Airaksinen.
The college refused to comment on the ruling, calling it "pending litigation," and later told Airaksinen it would appeal. That means the Title IX violations are still on the student's record.
Before the college confirmed it was appealing, the Knights' lawyer Mark Hathaway said the college and Avalos would be "held in contempt and fined or jailed" if they didn't comply and remove the violations from his record.
Read the article and our prior coverage.
MORE: Marcus Knight sues Saddleback for Title IX due process violations
IMAGE: Aurora Knight/YouTube
Like The College Fix on Facebook / Follow us on Twitter