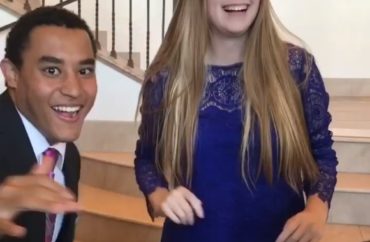 Unlikely to transfer to four-year school without findings removed
Last summer we told you about Marcus Knight, an autistic student with cerebral palsy and a shunt in his brain to relieve pressure.
California's Saddleback College opened two Title IX investigations against him for a fist bump and selfie that two female students described as sexual harassment. His mother Aurora accused the college of multiple due-process violations and said the allegations weren't even physically possible for her son, and crowdfunded to hire an attorney.
That effort has finally borne fruit. The Knights are suing Saddleback College, according to PJ Media reporter Toni Airaksinen, a former College Fix writer.
While the college lifted Marcus's suspension before his hearing, the Title IX violations remain on his record and he remains banned from school activities unless accompanied by his mother or a special-needs aide.
The lawsuit, filed by high-profile California Title IX litigator Mark Hathaway, accuses Title IX officer Juan Avalos of denying Marcus basic due-process protections. They include judging him using evidence "never before provided" to the student and denying him the right to question "the complainant or adverse witnesses" before neutral fact-finders in a "live evidentiary hearing."
Marcus's chance to get into a four-year college is nil unless Saddleback, a community college, rescinds its findings against him, the primary aim of the lawsuit.
MORE: Autistic student tried to make friends, gets banned from campus instead
A letter he wrote to one of his accusers is included in the lawsuit:
"[It] is difficult to make friends for me. I wasn't try to do anything wrong, I was just trying to have a new friend in campus," wrote Knight. "I am a good guy, I feel very lonely and depressed and I am having hard time, so please forgive me."

"I know I am different, but I am a good guy, and very respectful sometimes is hard to get to know me. You can ask the people that know me and they will tell you I am a good guy. I am so sorry," he concluded.
The intended musical-theater major is not shy in front of the camera. You can see him singing a song from the musical Dear Evan Hansen.
MORE: Hathaway's client gets USC in trouble at California appeals court
IMAGE: Aurora Knight/YouTube
Like The College Fix on Facebook / Follow us on Twitter