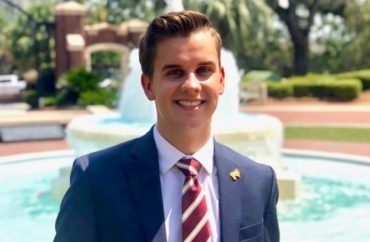 He'll get back $54 a week for a few weeks
Jack Denton will get back his salary as student senate president for the remaining few weeks of his term. What he won't get back is his job as student senate president.
A federal court refused to reinstate the Florida State University student to the position he was removed from because of his Catholic beliefs, saying it "could produce tumult and chaos."
U.S. District Judge Allen Winsor essentially ratified the heckler's veto issued by the student government when it removed Denton (above) and refused to let him appeal his removal.
"Some might say this only rewards the senate for its discriminatory and retaliatory action—that it allows students to 'get away' with violating Denton's First Amendment rights," Winsor wrote Thursday. "There is something to this point, to be sure. But the public interest considerations involve more than simply righting a wrong."
Because so many of Denton's colleagues loathe him for stating Catholic beliefs in a private Catholic group chat, it's unlikely the senate "could function well enough to deliver" on its duty to allocate student activity fees to student groups.
MORE: Denton sues FSU officials for removal over Catholic views
Denton has not shown "substantial benefit" that would result from his reinstatement, including what "powers" he would enjoy if returned to the president's office, according to the judge. (He remains a senator.) Because Denton is so loathed, it's not clear "he would be able to effectively" speak as senate president.
Those who didn't express animus toward Denton for his beliefs "would suffer from the disruption and turmoil that would follow an injunction [by the court] commanding new leadership many could not accept," Winsor said.
The Alliance Defending Freedom, which represented Denton in his lawsuit, made lemonade out of the sour ruling from Winsor.
"As the court found, FSU violated Jack's constitutionally protected freedom of speech and therefore cannot withhold his salary from him in his role as student senate president," lawyer Tyson Langhofer said in a statement. "We look forward to a final resolution for Jack."
Indeed, Denton's only relief is getting back the $54 he's supposed to earn each week as senate president – $9 an hour capped at six hours. Under the student's representation to the court that his term has been extended until "approximately" Nov. 11, that would seem to mean he'll get $270 for his troubles.
University's arguments for non-responsibility are groundless
Denton's colleagues were outraged by his critical comments about organizations that advocate for "transgenderism," abortion rights and defunding police, all of which "are explicitly anti-Catholic," as he had told his fellow Catholics.
They also refused to seat a full student supreme court that could hear his appeal, with one senator expressing concern about how the nominee would vote "over this case."
Winsor agreed it was obvious that the senate removed Denton because of his stated religious beliefs. "There is no real dispute about the facts (at least at this stage), and no party sought an evidentiary hearing," he said.
Winsor was harsher on Florida State for not only claiming it could do nothing to reinstate Denton, but that it couldn't pay him the salary he lost when he was unconstitutionally removed.
The university is responsible for student government decisions, exercising veto power over even student supreme court decisions, the judge wrote. The student government "is a creature of state statute," and the university made its removal of Denton "final by refusing to overturn it and depriving Denton of further review."
The five FSU officials Denton sued are proper defendants because they have "some connection," if not more, to his removal. "They may not have cast votes on the no-confidence motion, but they recognized and enforced the removal by stopping the presidential salary and removing other benefits of office," such as Denton's official presidential email account, Winsor wrote.
The judge specifically noted that Vice President for Student Affairs Amy Hecht (below) had authority to overturn Denton's removal, "and her decision to do otherwise—to give effect to the vote—led to the ongoing constitutional injury."
MORE: Florida State SGA refuses to let Denton appeal his removal
Denton has shown a "substantial likelihood of success" on his First Amendment retaliation claim, according to Winsor, who said the issue was not a close call:
To state the obvious, expressing one's religious views, as Denton did, is a constitutionally protected activity. And being removed from a student senate presidency, as Denton was, would chill someone from expressing himself.
The judge also cited video from the senate meeting as proof that he was removed for privately stating Catholic views.
The university's claim that Denton simply came out on the wrong end of the "rough and tumble" of politics is false, Winsor wrote: "Denton is not here to complain about insults or hurt feelings. His claim is that he lost his job—his student government position—because he chose to exercise his First Amendment rights."
FSU also baselessly argued that Denton cited a constitutional right to hold office. "Denton was serving in student government, and he had a constitutional right not to have that taken away from him based on his privately expressing his religious views," the judge wrote.
He was "speaking in his personal capacity about his religious views in a forum designed for just that," not in his official capacity, and FSU has not argued it has "a legitimate interest in regulating" the former.
'Extreme and emotional' reactions mean he can't serve effectively
The university's argument that Denton will not suffer "irreparable harm" without an injunction is also false, because it "continues to penalize him for his speech" by not exercising its authority to reinstate him. And since FSU insists that Winsor's court is "powerless to provide a monetary remedy," it will refuse to pay him under any circumstances, making his financial injury irreparable.
Denton actually followed university procedure better than the university, according to the judge: He asked Hecht to intervene under her authority, sought an appeal from the student supreme court, and then went to Hecht again to seek a temporary justice to constitute a quorum and hear his appeal. He only sued when these efforts failed, so he did not "unreasonably" wait to seek justice, as FSU claimed.
But the judge stopped short of putting Denton back in his position in practice, saying it's not clear his reinstatement would "serve the public interest":
[T]he leadership role he once held—the role to which his colleagues elected him—is, as a practical matter, not the role to which he would return. His title and pay could be returned, but any meaningful ability to lead likely could not. Effective leadership requires working cooperatively with others. On this record, that seems impossible.
Winsor quoted senators who had "extreme and emotional" reactions to Denton's private views, including one who said she worried about "the safety" of Denton's colleagues and the whole student body. Another said she "immediately began to cry" when thinking about having to work any more with Denton, which "would be effectively enabling bigotry."
Whether or not these reactions are reasonable, it's not Winsor's place to create a situation where the student government becomes utterly ineffective by virtue of Denton's reinstatement, he said.
The judge split the baby by granting Denton his presidential pay going forward, since "[t]hat aspect of the reinstatement would not cause the problems full reinstatement would" and it resolves what would otherwise be irreparable injury.
FSU must stop enforcing Denton's removal "to the extent that doing so means denying prospective payment for services as student senate president," Winsor wrote. The parties will next meet for a "telephonic scheduling conference" the week of Oct. 19.
MORE: FSU Senate president removed for privately stating Catholic teaching
MORE: Denton lawyers up as successor beats removal for anti-Semitic posts
IMAGES: Alliance Defending Freedom, Florida State University
Like The College Fix on Facebook / Follow us on Twitter