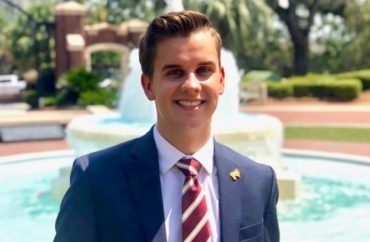 UPDATED
'Unconstitutional retaliation'
A month after Florida State University's student government refused to let its former Senate president appeal his removal from office, the student has sued several officials at the taxpayer-funded institution and in its student government, alleging "unconstitutional retaliation" against him for his Catholic beliefs.
Jack Denton (above) stated Catholic doctrine on LGBT issues in a private group chat with other Catholic students, leading the Student Government Association to remove him. A petition that spurred Denton's removal called his comments "transphobic and racist." (Denton also said that advocacy to cut police budgets violates church teaching on "the common good.")
Though he lawyered up soon after his removal, alleging violation of Senate policy, FSU policy and his First Amendment rights, Denton's lawyers at the Alliance Defending Freedom said Tuesday the administration had not responded to its July 22 letter. The suit also alleges Hecht hasn't responded to Denton's July 2 letter.
"Jack has patiently appealed to fellow students and university administrators using the university's internal procedures," senior counsel Tyson Langhofer said in the law firm's statement. He's suing because "students and administrators have repeatedly failed to respect Jack's constitutionally protected freedoms."
The suit names FSU President John Thrasher; Vice President for Student Affairs Amy Hecht; Brandon Bowden, interim director of student governance and advocacy; Student Senate President Ahmad Daraldik; and Alexander Harmon, president pro tempore. All are sued in their individual and official capacities.
MORE: Florida State SGA refuses to let Denton appeal his removal
FSU General Counsel Carolyn Egan (left) told the university's public radio station WFSU that Denton couldn't sue the university because "student governments are created by students for the purpose of experiential self-governance."
Since FSU has not "taken action to adopt the decision," the taxpayer-funded entity is protected from civil liability, she claimed.
By noting Denton was "provisionally removed," Egan is apparently referring to the student government's refusal to fill vacancies on the Student Supreme Court to hear Denton's appeal, leaving him in limbo possibly until his term ends.
A spokesperson gave The Fix the same statement Wednesday morning but has repeatedly refused to answer why it allegedly hasn't responded to the alliance's July 22 letter.
FSU is not responsible for its student government's potentially unconstitutional actions, she said: "This is an SGA matter. The SGA is independent per Florida Statute."
Falsely accused of calling people 'grave evils'
"Just as public universities cannot fulfill their academic mission by adopting an orthodoxy and stifling all nonconformist thought, so too student governments at universities cannot achieve their pedagogical purpose of political simulation when they discard constitutional norms," the suit says.
The student government violated its constitutional obligations by imposing "an ad hoc religious test for office" in response to Denton's privately stated beliefs, which "have implications for some social issues that some consider offensive" but are protected by the First Amendment.
His removal has harmed Denton financially and damaged his reputation "permanently," the suit claims. Despite pleading to Hecht to remedy the SGA's unlawful action against him, which also flouted its internal policies, FSU officials have taken no action to vindicate Denton "despite having the authority and the duty to do so."
President Thrasher (right) in particular "retains ultimate authority in matters of student conduct," including review of Student Senate legislative action and veto of allocated funds from mandatory student fees. "On information and belief" he can also order any student government official "to take action consistent with University policy or state and federal law."
The suit uses the university's own words against it. The Department of Student Governance and Advocacy embraces "diversity of thoughts, ideas, and identities" because they "bring a richer, more educational dialogue to leadership and the campus community as a whole." The SGA's rules ban it from "abridg[ing] the student's rights as a citizen under the United States Constitution or the Constitution of the State of Florida."
Denton shared his views on transgenderism, abortion and anti-police movements in the group chat "for the purpose of avoiding the sin of remaining silent when his fellow Catholics might financially support organizations without knowing all of their policy prescriptions," the suit says. (The controversy was sparked when Denton highlighted the anti-Catholic views of organizations to which other Catholic students might otherwise donate.)
Nothing he said privately suggests that he "could not fairly and impartially execute his duties as Student Senate President, especially when construed in light of his actual track record of fairness, collegiality, and coalition-building," the suit argues.
MORE: FSU Senate president removed for privately stating Catholic teaching
It accuses Senator Kundhavi Gnanam (left), who made the motion of no confidence against Denton, of falsely claiming that he called people "grave evils" in the group chat even though she had been given the chat logs. Denton actually referred to organizations that promote "grave evils."
The record of Denton's removal makes clear that his "religious speech" was the basis for his removal. One senator even noted that Denton had exercised his First Amendment rights, but insisted on his removal for "demeaning and hurtful" remarks. Another claimed that Denton sharing his beliefs in a private group chat "was a clear violation between separation of church and state."
"No senator offered any grounds for removing Mr. Denton other than his speech in the Catholic Student Union GroupMe chat," the suit says:
The standard applied by the Student Senate disqualifies a substantial portion of the FSU student body from holding a leadership position within the Student Senate.

The standard applied by the Student Senate renders a substantial portion of the FSU student body incapable of being represented by a leader in the Student Senate who shared their religious and political views.
Student affairs VP 'hope[s]' student government appoints justices
Denton will lose around $850 in official pay if he is not reinstated this fall, according to the suit. That includes $360 from the summer. What causes even more damage is the loss of "honor" from leading the Student Senate, including budget allocation proceedings, which were a largely reason why he ran for president.
He won't be able to list his presidency on future job or graduate school applications because his removal from office will cause ongoing reputational harm.
After Denton protested to Hecht that the SGA was preventing his appeal from being heard by refusing to fill a vacancy on the Supreme Supreme Court, FSU finally responded through its lawyers Aug. 4, according to the suit.
It said the university would take no action and that he could only "hope" that the SGA will fill the judicial vacancy at the Senate's first fall meeting. Hecht (right) sent a letter Aug. 7 to the Senate that "ratified" its removal of Denton, saying the no-confidence vote "followed proper procedure," ignoring the fact that the Senate violated both university nondiscrimination policy and its own rules, the suit says.
Even if the Senate appoints a new justice "immediately," it's unlikely that person will be sworn in before the court can hear and rule on Denton's complaint before his term expires, "and certainly not before the Senate completes its budget allocation process."
The FSU spokesperson warned The Fix against "speculation" that Denton may be denied a ruling by the Student Supreme Court before his term ends. "The SGA judicial branch was not in session this summer," she wrote in an email. "The student senate is in the process of confirming new student justices."
The lawsuit alleges that Gnanam, the senator who led the no-confidence push, explicitly refused to consider Lisa Salter's nomination because of how she might rule in Denton's case. Ghanam said:
Her limited knowledge [of the LGBTQ+ community] is very concerning and frustrating. Since there is such a sensitive case on the docket [Denton's appeal] it is very concerning what the repercussion of this could be. I don't feel comfortable having her preside over this case [Denton's].
The Fix reminded the spokesperson of these allegations and asked again how the SGA can collect mandatory student fees without being accountable to FSU and its own constitutional obligations as a public university.
The suit alleges First Amendment violations of Denton's free speech through retaliation and "Content & Viewpoint Discrimination," and violation of his First Amendment free exercise of religion through "Hostility." It demands preliminary and permanent injunctions that restore Denton to his office and "purge" any files that refer to his removal.
He's asking for nominal and compensatory damages for violation of his constitutional rights as well as attorney's fees and costs.
"No student should feel forced to silence their deepest moral convictions in order to keep a job or participate in student government," the alliance said in a one-page summary of the lawsuit.
UPDATE: A spokesperson responded to a Fix query on the lawsuit. Her comments have been added.
MORE: Denton lawyers up as successor beats removal for anti-Semitic posts
MORE: UF student president faces impeachment because Bernie turned down speech
MORE: Student official faces recall because he rejects preferred pronouns
IMAGES: Alliance Defending Freedom, Florida State University
Like The College Fix on Facebook / Follow us on Twitter