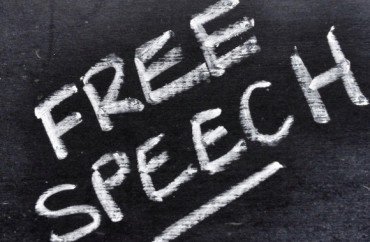 Student sued university for its 'vague, overly broad policies' concerning speech; case will go to appeal
In spite of the rising tide of student intolerance on many campuses across the country, campus free speech has actually experienced a number of successes in recent months; a Virginia law that went into effect this month, for example, mandates that "no public institution of higher education shall abridge the constitutional freedom of any individual."
Just the same, there have been free speech setbacks as well. The most recent occurred this month after a court ruled against a student suing for his First Amendment rights, reports George Leef at the James G. Martin Center for Academic Renewal.
The plaintiff, pro-speech lawsuit came about after he faced potential sanctions from his school, the University of South Carolina, for a number of student complaints lodged against him. The plaintiff, student and USC College Libertarians president Ross Abbott, had helped organize a pro-free speech, anti-censorship rally on campus, an event that several students said involved "racist" and "triggering" conduct. The university's office of equal opportunity summoned Abbott to discuss the charges, informing him that he could face sanctions (possibly expulsion) if the case moved on to the office of student conduct.
Abbott successfully defended himself against the charges, which were eventually dropped. He subsequently sued the university " to challenge the school's vague, overly broad policies" regarding free speech, according to Leef.
Unfortunately, he was not successful:
The case was heard by federal district judge Margaret Seymour, a Clinton appointee. Her July 7 ruling in Abbott v. Pastides was a setback for free speech on college campuses. Judge Seymour held that USC's policies were constitutionally acceptable as "a narrow approach to addressing the rights of students on campus: those who participated in the event and those who felt discriminated by it."

That decision makes hash out of the First Amendment. Its protection of free speech does not call for any "balancing" of the right to speak against the supposed right not to feel "triggered" or "discriminated." Speech on the USC campus is not free when students can be brought up on official charges, hit with a gag order, and threatened with punishment if they should fail to appear before school administrators—simply because another student files a complaint over speech he or she didn't like.

"Narrowly tailored" or not, the university's policies make free speech very problematic at USC.

[The Foundation for Equal Rights in Education's] Executive Director (and Martin Center Board member) Robert Shibley responded to the Abbott decision, saying that the opinion "kneecaps free speech by giving campus bureaucrats extraordinary latitude to browbeat dissenters into keeping their mouths shut." And the attorney who handled the case for the students, Robert Corn-Revere, states that the decision is "plainly contrary to well-established First Amendment principles and will be overturned on appeal."
The case will now proceed to the Fourth Circuit Court of Appeals, according to Leef. "Until then," he writes, "USC students had better be prepared for mandatory 'discussion' sessions with university officials if they should say something that provokes anyone to complain."
MORE: Public university sued for requiring student to censor himself to graduate
MORE: College that censored pro-gun students will pay $50,000 to settle free-speech lawsuit
Like The College Fix on Facebook / Follow us on Twitter
IMAGE: Shutterstock