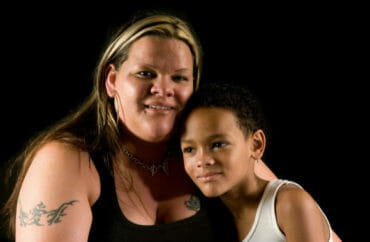 Persecuting the most marginalized parents
If today's ad writers lived in 18th century France, they wouldn't write "Let them eat cake." They would write #StayHome.
Corporate and governmental COVID-19 messaging emphasizes actions that are much more practical for people of means than for those who are scraping by. Do you think rich people are working grueling shifts shopping for groceries and driving long-haul trucks round the clock to meet artificially surging demand created by government bans on dine-in services?
Of course not – they're exploiting those "essential workers," one of the most odious euphemisms of our time, rather than using their means and influence to beat government leaders into submission and reopen their economies, which would restore some semblance of balance in livelihoods.
The well-off certainly have an easier time ensuring their children's formal schooling – they can hire talented teachers for learning pods. It's much harder for those of modest means to keep their children engaged when the local public school refuses to do its taxpayer-funded job by teaching children in person.
How are schools responding to these challenges for financially strapped parents? Calling police on them.
The Boston Globe reports on the racist, sexist, classist efforts by Massachusetts school districts and social services agencies to threaten parents whose kids miss their so-called online learning sessions. It's essentially criminalizing poverty:
In most cases, lawyers and family advocates said, the referrals were made solely because students failed to log into class repeatedly. Most of the parents reported were mothers, and several did not have any previous involvement with social services.

The trend was most common in high-poverty, predominantly Black and Latino school districts in Worcester, Springfield, Haverhill, and Lynn; advocates and lawyers reported few, if any, cases from wealthier communities.
In a time when calling the cops for any other reason is deemed a threat to someone's life, school officials see no problem siccing law enforcement on marginalized parents simply trying to feed their families, more likely to work in the "essential jobs" that help the rich #StayHome comfortably.
They aren't doing it out of nowhere: The state Department of Children and Families explicitly told schools to fink on parents, which can result in the removal of children from their homes.
MORE: Ed expert predicts COVID quarantine will bust homeschooling myths
Some of the victims of government overreach documented by the Globe: a single mom with a full-time job, a 7-year-old and a teenager, whose schools made no effort to help her understand the online platforms; parents who "did not receive information about getting laptops and Internet access because they don't use Facebook and e-mail"; and a Spanish-speaking immigrant who was accused of neglect after asking the school for help with her son's difficult transition to online classes.
Then there's the white mother whose four kids all have special needs, including a 6-year-old autistic and epileptic boy who likes to run around naked. You can see where this is going:
Later that day, [Christi] Brouder received a call from the Department of Children and Families. The social worker informed her that school staff had reported a naked adult male exposing himself on the computer.

Brouder explained that she lives alone with her four young children and that the nude male was only 6.

She was relieved when the social worker told her the case wouldn't go anywhere. The school district, however, wasn't ready to drop the issue. The head of Haverhill's special-education department told Brouder that afternoon they had contacted the city police department "due to the severity of the allegations," according to Brouder.
The Globe couldn't find any evidence that this call-the-cops response was happening in more privileged school districts: "Indeed, superintendents in four suburban districts contacted by the Globe said they did not believe their staff reported parents to DCF for being absent from virtual school."
Robby Soave at Reason suspects that "similar issues are probably cropping up" outside Massachusetts, given the similarity in how child services operates in different states.
"The decision to rely partly or entirely on virtual learning has created a horrible situation for many working parents who depend on school for day care," he writes. "Public school officials should be treating such families with empathy and patience, not putting the authorities on speed dial."
Take note of the school districts mentioned in this report – again, Worcester, Springfield, Haverhill, and Lynn – and give them a piece of your mind for threatening to destroy families when their kids miss half-assed "online learning" sessions. Tell off DCF too. These monsters don't deserve peaceful lives.
MORE: University orders faculty to report naked students on Zoom
IMAGE: threerocksimages/Shutterstock
Like The College Fix on Facebook / Follow us on Twitter