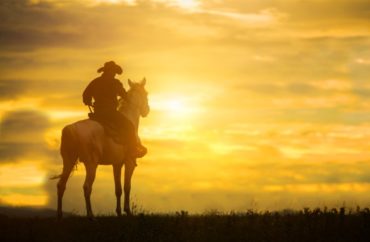 Last summer, outrage ensued over the University of Wyoming's new slogan: "The world needs more cowboys."
Christine Porter, an associate professor at the university, said that "boy" in the word "cowboy" clearly excludes anyone who doesn't identify as male, reports Inside Higher Ed.
And communications Professor Tracey Owens Patton said that "what goes behind the term cowboy" is "erasure, racism, sexism, heterosexism, and genocide," reports The Wall Street Journal.
But campus administration didn't buckle to the PC outrage mob — and guess what — that decision has paid off, bigtime.
The Wall Street Journal reports:
Despite the griping, the Board of Trustees voted unanimously in July to keep the slogan. Students, alumni and sports fans apparently weren't offended. The university bookstore sold out of "the world needs more cowboys" T-shirts the first week they hit the shelves. Responding to demand, the University of Wyoming put the slogan on other products and sold roughly 5,000 items in the first six months.

Between July and December 2018, royalties were up $38,000 over the same period in 2017 as the school licensed 143 different products with the tagline to third-party vendors. A funeral home even requested permission to create a "the world needs more cowboys" coffin. Talk about getting the final word.

The campaign has been a hit off campus, too. A campaign ad video had half a million views online—nearly the equivalent of Wyoming's state population. After seeing the digital ads, some 18,000 viewers clicked on the link and gave their information to recruiters. Enrollment numbers won't be in until later this year, but "it's pretty clear there's been an increase in interest," spokesman Chad Baldwin says.
One can only hope other universities' boards of regents are paying attention. It's time to stop letting the outrage mob dictate campus rules.
MORE: Student in cowboy outfit causes racial angst at Wake Forest U.
IMAGE: PK Studio
Like The College Fix on Facebook / Follow us on Twitter