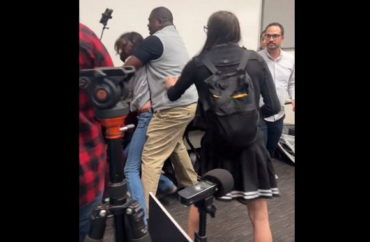 Pro-lifers were attacked at two separate events in two months
Six individuals who attacked a pro-life event at Virginia Commonwealth University continue to face criminal charges.
Police reports obtained by The College Fix via a public records request show that Natalie Hoskins, a 22-year-old female, was arrested for simple assault. A 30-year-old male named Anthony Marvin was also arrested for disorderly conduct.
The next court date for Hoskins is August 7, according to the Virginia judicial system database. Marvin's next court date for this charge is Nov. 20, although court records show he is also charged separately for "obstruction of justice."
Four other individuals who were arrested at a subsequent event in April also are facing criminal charges.
"All four individuals have been charged with trespass and have a July 11, 2023 trial date," Richmond Commonwealth Attorney Colette McEachin told The Fix via email on June 13. "One of the four was also charged with resisting arrest."
"Members of the domestic terrorist group Antifa and pro-abortion students crowded into the room, passed around chant sheets (written specifically for Hawkins), screamed their hatred loudly, and several were ultimately arrested," Caroline Wharton wrote in a May 1 article.
"Around 100 people showed up for her speech — and about 40 of those turned out to be pro-abortion protestors and local Antifa members," Wharton said.
The campus police deferred to the Richmond Commonwealth Attorney's office when asked for information about the event and any steps taken in general to protect free speech.
"VCU is dedicated to promoting a safe environment for our students, faculty, staff and visitors to gather and speak freely in a civil manner," VCU police spokesman Corey Byers told The Fix via email on June 7. "The university is committed to free speech and civil discourse, values that strengthen our academic mission and our dedication to the success and well-being of our students, patients, faculty, staff and community."
Other campus officials have yet to respond to two requests for comment sent in the past two weeks.
The Fix asked the media relations office if there would be any further actions taken against those who interrupted the March 29 or April 26 event with Students for Life of America President Kristan Hawkins. Turning Point USA commentator Isabel Brown, who is also affiliated with SFLA, spoke at the March 29 event.
MORE: FBI seeks info on pro-abortion threats against campus Catholics
Videos posted by Students for Life show ongoing shouting and attacks on pro-life students and staffers for the national pro-life group at the March event, as previously reported by The Fix. The two individuals arrested the first time were not students.
The Fix asked Associate Vice President for Public Relations Michael Porter if the university planned to address the free speech issues raised by Alliance Defending Freedom in an April 5 letter on behalf of SFLA. He has not responded to two requests for comment sent via email in the past two weeks.
The Christian legal nonprofit sent the letter in response to the violence at the March 29 event, and as a result Hawkins was invited back by the university in April, when further chaos ensued.
ADF wrote:
By failing to provide security for this event, by failing to respond to the disruption in a timely manner, and by failing to remove the disruptors and instead removing the students hosting the event, VCU egregiously violated SFL-VCU's and SFLA's clearly established constitutional rights.
SFLA reported after the March event that the violence did not deter them. The president of the VCU pro-life club said in a statement to the national organization that despite "the backlash and violence at the event," her club had grown. "Despite the pro-abortion crowd wanting to silence us, they actually provided us great visibility."
Students for Life acknowledged the request for comment but has yet to provide further information in response to a College Fix inquiry.
MORE: Duke law student denounces school's pro-abortion message
IMAGE: Kristan Hawkins/Twitter
Like The College Fix on Facebook / Follow us on Twitter