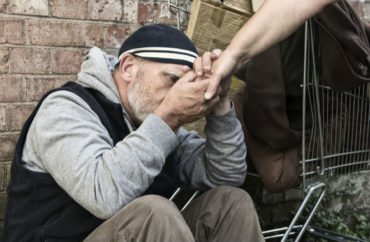 They aren't 'scared of walking outside at night'
You've gotta hand it to the modern academy – they can find male privilege anywhere.
Even the gutter.
A criminology professor at Wilfrid Laurier University – best known for telling a grad student that she threatened her class by showing a Jordan Peterson clip – has a new book with a chapter on "Hegemonic Masculinity Among Men Experiencing Homelessness and Mental Illness."
Christie Blatchford reviews the work of Erin Dej, "the well-educated (one might say hyper-educated) product of the Canadian education system," in Canada's National Post:
Her conclusion is that while homeless men are denied the usual range of hypermasculine rewards (a house, a job, power, etc.) such are the benefits of "the patriarchal dividend" that they nonetheless "perform masculinity" and behave in the few hypermasculine ways that remain open to them. …

[Dej wrote], of one of the homeless men she interviewed, that his tall stature and build "have allowed him the privilege that many men, and few women, are privy to — not being 'scared of walking outside at night'."
By Dej's own admission, this homeless man – one of 38 she interviewed in homeless shelters – has been diagnosed with several mental illnesses including PTSD, he uses hard drugs, and he was physically abused as a child.
But because he identified his physical vulnerability as so bad that "a little girl could have killed me," Dej had a field day of analysis:
"This vulnerability is the antithesis of hegemonic masculinity…. For Ron, the feminine subjectivity acts as the ultimate exemplar of physical weakness and the most absurd hyperbole of who constitutes a threat."

Why, she wrote, he even compared the cramps he got from his daily methadone treatment as "like, uh, menstruating, almost…. Like my stomach is just, like, cramps."
A study showing homeless men need (more shelter? more job training?… ah, no) to be educated about their toxic masculinity.
Some research coming out of Wilfrid Laurier, my university shows, yet again, the skewed focus of most Arts & Humanities profs.https://t.co/XjpQIL47ZB

— David Millard Haskell (@DMillardHaskell) August 9, 2018
This analogy is "telling of Ron's felt masculinity status" and "may be related" to his newly adopted identity as bisexual, Dej said: "For Ron, he has failed to live up to the basic tenets of hegemonic masculinity: physical strength, vitality and heterosexuality."
Blatchford of the Post sees Dej's conclusions as "part of the current narrative that masculinity itself is inherently toxic, or at least malformed."
Therefore, Dej (below) says the solution to homelessness starts with accounting for "the complex gender dynamics at play" and designing interventions that "mitigate the troubling ways that compensatory masculinity manifests" (e.g., saying a little girl could beat you up).
As Blatchford deadpans: "Yes, because that's the one thing the homeless — who have nothing — really need."
MORE: 'Toxic masculinity' responsible for hatred of vegans?
IMAGE: Stephm2506/Shutterstock
Like The College Fix on Facebook / Follow us on Twitter