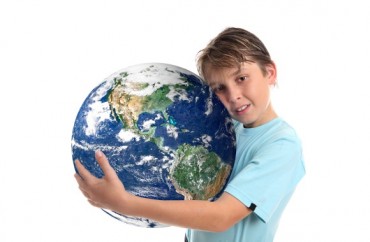 Teaching California students about climate change may soon become mandatory. Public school teachers in California would be required to teach students as young as six-years-old about climate change under a recently proposed bill.
The bill, AB 1922, seeks to require the science area of study to include an emphasis on "the causes and effects of climate change."
But several critics of the bill contend the effort is really an attempt to brainwash and indoctrinate students, and that the curriculum would only teach students a biased view on climate change.
"This is an effort to brainwash the kids," said Dr. James Enstrom, an epidemiologist and researcher at UCLA, in an interview with The College Fix. "This bill that they're promoting is dangerous."
Adam Houser of the Committee For A Constructive Tomorrow, which seeks to offer an "alternative voice on issues of environment and development," told The College Fix that "unfortunately, this bill will only teach students a biased, one-sided view on the climate change issue: that the world is ending in 10 to 30 years because of human-made CO2."
Not only does the bill call for mandatory climate change education, but those who do not complete the climate change requirement in high school will not be eligible for graduation.
"Climate change education will be a coursework requirement for students in grades 1 through 6, and a graduation requirement for students in grades 7 through 12," California Assemblywoman Luz Rivas, a Democrat who represents a swath of Los Angeles, stated in a news release.
The bill seeks to require the graduating class of 2025 to fulfill this requirement, which means the curriculum would be implemented for the 2021-22 school year, the bill states.
"Greta Thunberg, the 17-year-old activist, ushered in a new energy to the climate movement. Our youth are ready to join the solution," Rivas stated. "As our federal government takes a step back from environmental protection, California and our children are stepping in."
But not everyone's on board.
"The agenda for the schools already is biased in terms of what they're teaching," Enstrom said. "This is another effort to get them to believe in something they are unfamiliar with."
Bill Evers, a senior fellow with the Independent Institute, an Oakland-based nonprofit, non-partisan, public-policy research and educational organization, said the effort appears to be an attempt at indoctrination.
"Back in the late 1990s, the California science content standards were carefully designed to teach students the science so that they could understand and evaluate rival global warming claims," Evers told The College Fix. "Policy conclusions were not to be taught. Now California legislators want to require that students be indoctrinated in such conclusions and turned into advocates and activists."
Judy Yee, a spokesperson for Rep. Rivas, could not be reached for comment Tuesday and Wednesday by The College Fix seeking clarification on what curriculum would be used to teach on climate change, whether other causes to climate change besides man-made impacts would be addressed, and how the lawmaker might respond to the bill's critics.
Houser said in Europe and other places children have been subjected to so much "scaremongering" on the topic that there have been spikes in anti-anxiety therapy sessions.
Houser said the issue, however, is not settled science.
"There's a whole lot more to the story, and research from scientists like Dr. Roy Spencer, Dr. Judith Curry, Dr. William Happer, Dr. Richard Lindzen, and Dr. David Legates, who question how much of climate change is really driven by CO2 from human activity, should have just as much of a say in the curriculum as climate alarmist studies," he said.
"… This bill would bring that disruptive and irresponsible educating approach directly to American students."
AB 1922 may not only change education standards for California, but could potentially have a ripple effect on blue states like New York, Massachusetts and Michigan.
Including climate change in school curriculum is also expensive. If adopted, AB 1922 would require the implementation of local state-mandated programs and new educational materials.
VIDEO: College students think world will end in 12 years
IMAGE: Shutterstock
Like The College Fix on Facebook / Follow us on Twitter