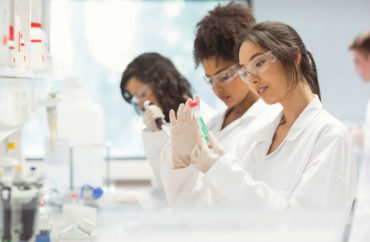 Ivy League college receives $25 million from couple to push initiative
Dartmouth College's planned $100 million program to help "historically underrepresented groups in science, technology, engineering, and mathematics," is moving forward, aided by a recent gift that will cover one-fourth of the cost.
However, white male students appear to be excluded from the program, raising legal concerns. Groups included in the STEM-X initiative, according to Dartmouth, include "Black, Latinx, and Native Americans," as well as "women."
Several experts on Title IX sex discrimination and Title VI race discrimination law are concerned about the legality of the program, according to comments they made to The College Fix.
The program will be partially funded by a $25 million grant from Penny and James Coulter, a billionaire couple who made money through their private equity company TPG Capital. In addition to the Coulters' grant, Dartmouth has raised $35 million to fund the program and seeks to raise an additional $40 million, bringing the total cost to $100 million.
The Fix reached out multiple times to Dartmouth's media team and the Coulters through their company to ask about the specifics of the program and if they had any concerns about granting awards based on race rather than merit but did not receive a response to inquiries sent in the past week.
The initiative will include "an undergraduate scholarship program," "curricular innovation," and "enhanced career and graduate school advising," all with the goal of "advanc[ing] STEM participation and leadership of underrepresented groups," according to the university's news release.
The program is a "three-year, cohesive diversity, equity, and inclusion strategic plan that cuts across both academic and administrative areas of the institution."
Bion Bartning, the founder and president of the Foundation Against Intolerance and Racism, a civil rights legal advocacy group, told The Fix in an email that a scholarship program which excludes individuals based on skin color would not be "lawful."
In addition to creating new programs, STEM-X will expand previous initiatives aimed at promoting these "underrepresented groups," such as the "Women in Science Program."
Bartning said through a spokesperson that while his group "supports lawful measures to achieve greater diversity along multiple dimensions in higher education," universities must comply with the Civil Rights Act, which prohibits racial discrimination.
MORE: UCincy STEM program accused of anti-white and Asian discrimination
"Universities that receive federal funding—including Dartmouth—must comply with the Civil Rights Act and cannot exclude candidates from scholarships or educational programs based on skin color or ancestry," the FAIR president said.
Bartning said his group will be looking for more details on the program "and hope they show Dartmouth's commitment to furthering diversity in a manner that does not exclude any student based on their immutable traits."
A frequent filer of Title VI and Title IX complaints is also concerned about the details of the program.
Professor Mark Perry, a professor emeritus at the University of Michigan, spoke to The College Fix about the potential legal issues with the program.
"To the extent that STEM-X programs at Dartmouth are available specifically and exclusively for Black, Latinx, Native American, and female students, Dartmouth will be violating federal civil rights laws (Title VI and Title IX)," Perry told The Fix.
"Once the specifics and eligibility requirements of those programs are publicly available, I and others stand ready to file Title VI and Title IX complaint[s] with the Office for Civil Rights," Perry said.
He said that Dartmouth is promoting a "false narrative" that women are underrepresented in STEM and noted "that women are overrepresented in many STEM fields including biology, health sciences, medical schools, and veterinary medicine."
"Universities like Dartmouth can pursue and invest in STEM based on merit or diversity, but not both," Perry said. "By emphasizing diversity goals over merit-based outcomes, STEM-X and Dartmouth are compromising their academic responsibilities and pursuing political and ideological agendas over scientific and merit-based outcomes and results."
MORE: 12 OK universities discriminate against white and Asian students, complaint says
IMAGE: Wavebreakmedia/Shutterstock
Like The College Fix on Facebook / Follow us on Twitter