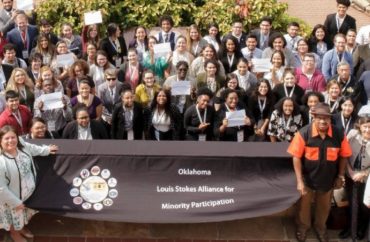 UPDATED
National Science Foundation-funded program requires illegal discrimination, group alleges
Twelve Oklahoma universities have been hit with a federal civil rights complaint for their participation in a STEM program that excludes white, Asian and Middle Eastern students.
Do No Harm, a nonprofit group fighting wokeness in healthcare, filed the complaints due to the universities' participation in the Oklahoma Louis Stokes Alliance for Minority Participation Program. The complaints have been filed with the Department of Education, but it does not mean an investigation will necessarily take place.
Senior Fellow Mark Perry, a frequent filer of Title IX sex and Title VI race complaints, filed them. Perry shared a copy of the complaint with The Fix. He said the 12 complaints are in the "evaluation stage" and have been acknowledged by the DOE.
Students "[m]ust identify as an underrepresented minority from the following groups African American, Hispanic, Native American, Native Hawaiian or Pacific Islander," according to one brochure.
The goal of this program is "increasing the number of students from under-represented populations who receive degrees in Science, Technology, Engineering, and Mathematics…disciplines."
The complaint accused these colleges of discrimination on the basis of race via adoption of the STEM program. The program is funded with money from the National Science Foundation, which lists all 12 universities on its grant award.
The leader of Do No Harm, former University of Pennsylvania medical school associate dean Dr. Stanley Goldfarb, told The College Fix via email recently that this program was illegal due to its exclusion of Middle Eastern and white students.
He wrote:
Oklahoma universities created a specific program called the OK-LSAMP program to 'increase recruitment, enrollment, and retention of minority students in STEM programs'. They specifically exclude white students, students from middle eastern countries, and Asian students. This program is proudly announced on University websites but it is illegal to engage in such discrimination based on race.
"It just shows how a focus on diversity as an overriding value leads to discriminatory activities," Goldfarb said, when asked why these two groups were excluded. "It may be based on good intentions but the long-term result of such activities is to produce resentment, divisiveness and diminishes the achievements of minority students who can thrive without such discrimination."
The Do No Harm chair also told The Fix this kind of discrimination has been well-documented in many other fields apart from STEM.
MORE: Ithaca College scrubs minorities-only program after complaint
The College Fix reached out to multiple universities subject to allegations in the civil rights complaint, including the two largest schools in the state.
The Fix asked what groups the universities considered to be "under-represented populations" and why white and Middle Eastern students were being excluded from the OK-LSAMP program.
The University of Oklahoma said it was not aware of Do No Harm's complaint.
"It is not the standard practice of the university to comment on pending litigation or related subject matter. However, we are unaware of the complaint," OU spokesperson Jacob Guthrie said via email on November 14.
However on Monday, after the article was published, Guthrie told The College Fix via email: "The website was modified to accurately reflect the program to which any student could apply. It has never been restricted by race."
Oklahoma State University did not respond to a request for comment.
A distinguished fellow with the Oklahoma Council of Public Affairs, a conservative think tank, told The Fix in a November 15 email that this is part of a larger trend of discriminatory practices on college campuses.
Trent England said:
Oklahoma is not immune from the rampant trend on campuses toward racial segregation, including in school-supported programs. We see state schools routinely supporting programs with open or implicit racial biases. It's so harmful, because it sends the message to all students that certain of them can't achieve without special coddling, and that some students are favored while others are disfavored on the basis of race.
He encouraged students to be vigilant and to take note of cases of discrimination at their universities.
"Students need to document anything that could be racial discrimination on campus and bring it to the attention of organizations that advocate for Martin Luther King's vision of judging people on the basis of their character, not their skin color," England said.
"In Oklahoma, that's OCPA, but there are many groups in other states and nationally that are ready to stand with students and parents for equality and against campus racism," he said.
Editor's note: This article has been updated to include a statement provided by the University of Oklahoma to The College Fix after publication.
MORE: Complaint alleges university program excludes white and Asian males
IMAGE: Oklahoma State University
Like The College Fix on Facebook / Follow us on Twitter