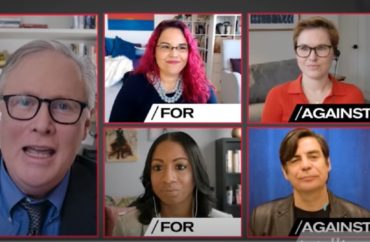 One expert warned against a 'policy sledgehammer' of across the board cancellation
Experts on the two sides of the debate on whether or not to cancel student debt reached agreement that student debt is at a crisis level.
But they differ on who should benefit from cancellation and the level of federal involvement in potential forgiveness programs.
On April 8, the host of the debate released the results and said that 59 percent of the 1,000 people who voted on the debate said student loans should not be forgiven, while only 44 percent of people originally said that the debt should not be forgiven, according to an email sent to The College Fix.
In a March 11 debate hosted by Intelligence Squared, four experts, two from each side of the issue on whether student debt should forgiven debated solutions to the student loan crisis. The media company hosts regular debates on a variety of political issues.
Ashley Harrington, Federal Advocacy Director at the Center For Responsible Lending, argued that a $50,000 loan cancellation would alleviate the burden of student loans for 44 million of people. Harrington said "black borrowers in particular" were most likely to suffer.
Beth Akers, resident scholar at the American Enterprise Institute, referred to mass cancellation as a "policy sledgehammer" that lacks nuance and will simply push the root problem further down the road.
"Students with student debt are not this homogenous group" of poor or "downtrodden" students. Students from high-income families take on more debt than students from poorer families, Aker said.
Host John Donvan highlighted areas of agreement between the two sides after opening statements and said that he believed the panel agreed that college had become "too expensive" but that "college is a ticket to a better life".
When it came to solutions and programs that could be introduced to alleviate the burden of student debt, the two sides were quite far apart.
Harrington said that cancellation "across the board is the way to go," in response to a question from Donovan. University of California, Irvine Professor Dalié Jiménez, a student loan law expert, agreed and said that this level of cancellation would fully eliminate debt for 75 percent of borrowers. Jimenez is the director of the Student Loan Law Initiative.
"There is no reason…that rich people should not be paying their way." Nick Gillespie, editor-at-large for the libertarian Reason magazine said, in agreement with Akers. He said that the $50,000 in debt cancellation would give relief to many rich families who don't need it.
Gillespie also said that this level of cancellation would strain the national debt."[W]e're having a conversation as if the federal government doesn't actually have to pay anybody back," Gillespie said.
Jimenez countered this point and said "that's actually literally true since the government makes the money."
Although Harrington and Jiménez held to their position that everyone needed some cancellation, Gillespie and Akers remained open to more targeted solutions.
When asked why she was unwilling to budge from mass cancellation, Harrington explained that she believes implementing more hurdles for people to get the help they need will only hurt poor borrowers.
Gillespie proposed solutions other than mass cancellation, saying "we can make college cheaper and more affordable by giving grants to low income people" or "increase the amount of supply of higher education" to reduce costs through the free market.
Another solution proposed by Beth Akers was to "improve the income driven repayment program" which allows borrowers to apply for reductions to their monthly loan payments to a level affordable with their income.
"There's room to move forward in that dimension without just blowing everything up," Akers said. People who continue to struggle with student loan debt "absolutely" deserve debt forgiveness, the think tank analyst said.
MORE: College grads dispute benefits, consequences of student debt forgiveness
IMAGE: Intelligence Squared/YouTube
Like The College Fix on Facebook / Follow us on Twitter