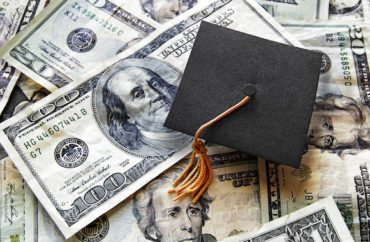 Four college grads weigh in on student loan forgiveness
President-Elect Joe Biden will likely push for some form of student loan forgiveness soon after taking office though he appears hesitant to use executive action.
Members of the Democratic Party, including Senators Elizabeth Warren and Chuck Schumer, have urged him to consider executive action to forgive $50,000 in student loans.
The College Fix wanted to hear from college graduates about their thoughts on student loan forgiveness. The Fix interviewed a total of four people, two conservatives and two liberal-leaning students.
The interviews found that while the conservative grads tended to argue that government should get out of the loan business and students should make smarter choices with their money decisions, the liberal-leaning students argued that loans are weighing good people down from buying a home and accumulating wealth.
Opponents says colleges are incentivized to increase tuition
Leandra Westbrook is a campaign operative who worked on the Trump presidential campaign in Ohio. She graduated with a political science degree from Kent State University in 2019.
"I do not believe student loan forgiveness is the answer," Westbrook said. "If it has gotten so bad to where we need to forgive student loans, why are federally insured student loans still being made available?"
She said:
We need to get down to the root of the problem: colleges are incentivized to increase costs by students taking out federal loans. Either way, colleges are being paid by the federal government, and that is guaranteed. If we end federal student loans, colleges won't have any choice but to lower their price of tuition; making it affordable to the average student without having to take out loans. Student loan forgiveness forces taxpayers who either didn't get a college degree, didn't take out student loans, or have paid off their own student loans to bail out others. I do not believe it's the government's job to become a financial advisor. It is our personal responsibility to manage our own finances, live within our means, and stick to a written budget.
"I've taken out approximately $80k in student loans," Westbrook said. "I have paid off around $10k in the last year since I graduated college. I have been following Dave Ramsey's Baby Step Program to get out of debt."
Dave Ramsey is a personal finance guru and radio show host who advocates paying off debt and building wealth using a 7-step program.
MORE: Federal student loans now top $1.5 trillion
Patrick Wool, another conservative student and college graduate, agreed with Westbrook's sentiments.
Wool, who graduated in 2020 from Benedictine College in Kansas, said that forgiving student loans "is a well-meaning but disastrous policy proposal." He has a degree in marketing and works for a political consulting firm. Wool currently attends Full Sail University online as part of his pursuit of a computer science degree.
He told The Fix he had $55,000 in student loans but kept that number down by working and attending a community college before Benedictine. He has paid off portions of his loans and plans to pay them all off in five years.
Wool said "there is no doubt the student loan debt is a crisis in this country but rather than attacking the cause of these high debts, the Biden administration plans to put a small band-aid over the issue by forgiving the majority of loans."
"The most effective solution would be to completely take government out of student loans," Wool said.
MORE: 'You don't need college to succeed,' says rising star national reporter
Proponents say forgiveness would help students weighed down by debt
The Fix spoke to an engineer who graduated college in 2017 and supports student loan forgiveness.
"I think it sounds like a good idea," Kristin Vail told The Fix via email. She graduated with B.S. in electrical engineering from Clemson University and earned a M.S. in the same field from Colorado University Boulder.
Vail says that she knows numerous people who have been financially devastated due to their student loans. She herself had $80,000 in loans coming out of college but has now paid it down to $20,000 due to an inheritance.
In an attempt to help people with student loan debt, Vail says that she thinks student loans are holding people back financially.
Vail said:
When I was in high school, going to college was always thought of something you needed to do to be successful. But now people I know who have good college degrees are stunted financially because of large amounts of student loan debt. I think loan forgiveness will allow people more freedom with their money and their lives. I have friends living with their parents in order to focus on paying off debt. So few people in their 20s are in a position to buy their own house or make other big investments because they have so much debt already, especially in Colorado.
The Fix spoke to another engineer, Lucas, who graduated from a state university in 2005. Lucas asked The Fix not to use his last name due to the nature of the subject.
Lucas said:
As the child of a poor single mother, I know firsthand of the challenges placed before so many prospective college students. Having been able to achieve high grades and scores on standardized tests (like the SAT and ACT), I was lucky to have received grants and scholarships that covered essentially all my first four years of college education. Paid co-ops/internships and other employment during school helped pay for the additional semesters required for me to complete my degree programs.
He shared Vail's comments on student loan debt holding back young professionals.
Now, as a father of small children, I can appreciate the difficulties of saving for college expenses and the challenges that investing and saving create. Many people cannot afford to save for college, let alone have enough money to pay the rent. Many professionals my age have put off buying homes due to student debt. Many families delay having children because they are burdened by student loans and other debt. These tough choices that many people my age have had to make (like not buying a home or having children) can have a negative impact on wealth growth of individuals/families and on the community/economy at large. Our country cannot thrive while the best and brightest are sitting on the sidelines because they cannot afford to participate in higher education, consumption, and growth (both in wealth and family size).
"I believe that a very basic amount of support should be given to every willing citizen to attend college or other training/education beyond high school," Lucas said.
MORE: How student loans are ruining American higher education
IMAGE: Zimmytws/Shutterstock.com
Like The College Fix on Facebook / Follow us on Twitter