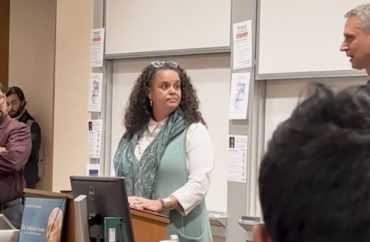 Tirien Steinbach, Stanford Law School's controversial diversity, equity and inclusion associate dean who made headlines after she berated a federal judge during a guest lecture, will be leaving the school, it was announced Thursday.
She is leaving her post for "another opportunity," according to law school Dean Jenny Martinez.
It is widely speculated Steinbach was forced out after her role in the public debacle, which prompted Stanford President Marc Tessier-Lavigne as well as Martinez to publicly apologize to Fifth Circuit Court of Appeals Judge Kyle Duncan for the outbursts, which included someone yelling his daughters should be raped.
Martinez's announcement came one day after The College Fix published an exclusive investigative report detailing how the law school refused to comment on the status of Steinbach's employment despite requests for comment by phone and email six times over the last two weeks.
Martinez's memo, obtained by the Washington Free Beacon, was addressed to the Stanford Law School community.
"Associate Dean Steinbach and I both hope that SLS can move forward as a community from the divisions caused by the March 9 event. The event presented significant challenges for the administration, the students, and the entire law school community. As I previously noted, tempers flared along multiple dimensions," Martinez wrote.
"Although Associate Dean Steinbach intended to de-escalate the tense situation when she spoke at the March 9 event, she recognizes that the impact of her statements was not as she hoped or intended. Both Dean Steinbach and Stanford recognize ways they could have done better in addressing the very challenging situation, including preparing for protests, ensuring university protocols are understood, and helping administrators navigate tensions when they arise. There are opportunities for growth and learning all around."
Steinbach became the focus of national controversy in March after she stood by while rowdy and vulgar student protesters shouted down Duncan as he attempted to give a speech at the behest of the conservative Federalist Society.
As The College Fix previously reported, Duncan called for an administrator to help restore order, whereupon Steinbach came to the podium and gave her own lengthy protest speech.
In a prepared statement, Steinbach said she was "pained" to inform Duncan that he was "welcome here" at Stanford to give his talk. But "is the juice worth the squeeze" Steinbach said, an apparent metaphor as to whether Duncan's right to speak was worth the pain his words would cause students.
Her lengthy tirade garnered national attention, and many called for her to be removed from the SLS faculty, including three students. Steinbach was placed on leave in late March.
The announcement of her departure comes one day after it was announced that Stanford President Tessier-Lavigne is resigning after flaws were found in his research.
MORE: Stanford Law refuses comment on fate of DEI dean who helped shout down judge
IMAGE: social media screenshot
Like The College Fix on Facebook / Follow us on Twitter