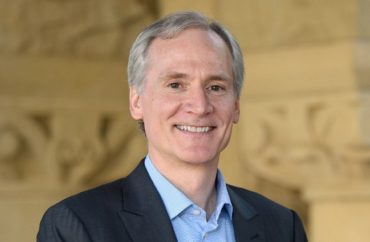 Stanford University President Marc Tessier-Lavigne announced Wednesday he will resign his post August 31 after an investigation found flaws in his research.
Although the probe did not find fraud or misconduct in Tessier-Lavigne's research, it determined data "were manipulated in some published scientific papers on which he was a main contributor," The Wall Street Journal reported.
An investigative panel also said "he failed to decisively correct mistakes in published papers as they were uncovered and had lapses in oversight of his labs at multiple institutions," the outlet reported.
A statement published on Stanford's website from Tessier-Lavigne stated he is "gratified that the Panel concluded I did not engage in any fraud or falsification of scientific data. Specifically, the Panel did not find that I engaged in research misconduct regarding the twelve papers reviewed, nor did it find I had knowledge of or was reckless regarding research misconduct in my lab."
"The Panel's report identified some areas where I should have done better, and I accept the report's conclusions," he stated.
"Specifically, the report discusses steps I took to address issues that arose with some publications. I agree that in some instances I should have been more diligent when seeking corrections, and I regret that I was not. The Panel's review also identified instances of manipulation of research data by others in my lab. Although I was unaware of these issues, I want to be clear that I take responsibility for the work of my lab members," Tessier-Lavigne added.
As The College Fix previously reported, for the past seven years, public allegations about the research integrity of Tessier-Lavinge's papers have been posted on PubPeer.
The investigative panel, convened in December, "reviewed more than 50,000 documents, including lab data and correspondence, received assistance from forensic image analysts and communicated with scientific journals," the Journal reported, adding:
The panel ultimately studied 12 published papers. They found that for the seven on which Tessier-Lavigne wasn't a primary contributor, he didn't have a material role in preparing the data or resultant images, and wouldn't have been in a position to catch any misconduct.

However, they said, there were "serious flaws" in how the research data was presented in the five papers on which he was the lead author, and there was evidence of data manipulation in at least four of them. Tessier-Lavigne said he would retract three papers, published in the journals Cell and Science in 1999 and 2001, respectively, and issue corrections on the other two, published in Nature in 2004 and 2009.
While Tessier-Lavigne's resignation is centered on his research flaws, the last year at Stanford has included a parade of negative headlines for the prestigious California university.
In December it was mocked and criticized nationally for a "harmful language" guide that warned against using the word "American," prompting officials to pull the guide from the public purview.
In March, Tessier-Lavigne had to personally apologize to Fifth Circuit Court of Appeals Judge Kyle Duncan after Stanford Law School students and its DEI associate dean shouted him down during a guest speech hosted by the conservative Federalist Society.
MORE: Stanford 'free speech training' was a campus joke: report
IMAGE: Stanford University
Like The College Fix on Facebook / Follow us on Twitter