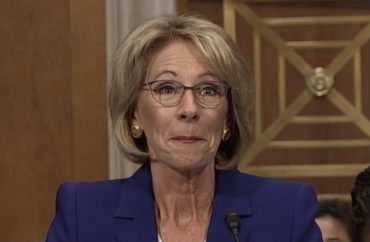 Less intrusive than the 'traditional complaint-resolution process'
Complying with an investigation by the Department of Education's Office for Civil Rights can cost a school six figures and a year or more under a cloud of suspicion.
Secretary Betsy DeVos* announced another option Tuesday: "proactive compliance" for school districts and colleges before students and employees file complaints.
The "Outreach, Prevention, Education and Non-discrimination Center" will open within OCR's Washington headquarters, the department said in the press release. Its acting director is Christian Corrigan, who is listed as OCR's senior counsel, and it will be staffed by OCR civil rights attorneys.
They will focus on "education, prevention, and outreach" and provide "high-quality, accurate, thorough, and legally sound" technical assistance to "schools, educators, families, and students."
The OPEN Center provides the opportunity for schools to preempt the "traditional complaint-resolution process," in which OCR acts after a complaint is filed. OCR head Kenneth Marcus characterized the center's mission as "voluntary, proactive activities" that allow OCR to "get in front of the problem, partnering with educators and other institutions to better protect students."
The department is expected to release its final regulations on campus sexual misconduct investigations, a major focus of OCR reviews, in the next two months – more than a year after they were proposed for public comment.
MORE: Title IX regulation would mandate cross-examination
IMAGE: ABC News/YouTube
Like The College Fix on Facebook / Follow us on Twitter