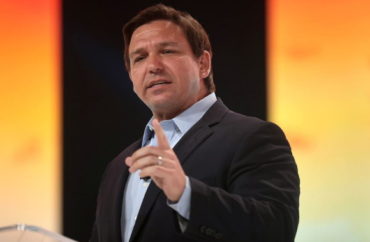 Both scholars have objected to affirmative action
Florida Governor Ron DeSantis appointed diversity, equity and inclusion critics Ilya Shapiro and Dorian Abbot to the Florida Polytechnic University Board of Trustees.
DeSantis appointed Shapiro, a Manhattan Institute fellow and former senior lecturer at Georgetown, and Abbot, a University of Chicago geophysics professor, to the board alongside David Clark, Sidney Theis and Clifford Otto, according to an Oct. 24 governor's office news release.
The Florida Senate must confirm the appointments.
Shapiro, a Constitutional law scholar, was set to begin a role as executive director of Georgetown Center for the Constitution in January 2021, but the school suspended him and placed him on administrative leave for a tweet that criticized President Joe Biden's pledge to nominate a Black woman to the Supreme Court.
Shapiro's now-deleted Jan. 26 series of tweets read:
"Objectively best pick for Biden is Sri Srinivasan, who is solid prog & v smart. Even has identity politics benefit of being first Asian (Indian) American. But alas doesn't fit into the latest intersectionality hierarchy so we'll get lesser black woman. Thank heaven for small favors?

Because Biden said he's only consider[ing] black women for SCOTUS, his nominee will always have an asterisk attached. Fitting that the Court takes up affirmative action next term."
Following backlash, Shapiro quickly released an apology. Georgetown reinstated him in June 2021, but he announced his resignation just days later, The Fix reported.
"I concluded that remaining in my job was untenable," Shapiro wrote in a Wall Street Journal op-ed June 6.
Shapiro wrote in the WSJ that diversity office and other departments at Georgetown "enforce an orthodoxy that stifles intellectual diversity, undermines equal opportunity, and excludes dissenting voices."
Geophysicist Abbot coauthored in Aug. 2021 an alternative framework to DEI called "Merit, Fairness and Equality" (MFE), which would evaluate university applicants based on merit and qualifications and treat them as individuals, he told The College Fix.
"Twitter posturing and writing DEI manifestos at elite universities really isn't helping justice, and is doing serious damage to the institutions," Abbot said.
The Massachusetts Institute of Technology disinvited Abbot from delivering a prestigious guest lecture on climate change in October 2021 for his stance on DEI and affirmative action, The Fix reported at the time.
"A new Twitter mob, composed primarily of EAPS [Department of Earth, Atmospheric and Planetary Sciences] students, postdocs, and recent alumni, formed to demand that I be uninvited from the Carlson Lecture," Abbot told The Fix.
The University of Chicago had refused to accede to demands to fire Abbot in 2020 for his critical take on affirmative action.
MORE: Federal judge slams Georgetown for suspending Ilya Shapiro
Last chance to support student journalists during our Back to School fundraising campaign! We're very close to our goal of $25,000. The deadline for the matching offer is quickly approaching so please donate by Oct. 31 to help us meet the goal. Thank you!
IMAGE: Wikimedia Commons
Like The College Fix on Facebook / Follow us on Twitter