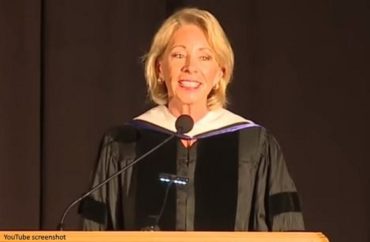 There's this famous story about how Barbara Bush in 1990 won over her critics through her commencement speech at Wellesley College. Initially, many students had protested her as speaker. But in the end, the First Lady wowed the grads with her words of wisdom, earning their respect and praise.
That's similar to what just happened with U.S. Secretary of Education Betsy DeVos.*
Last month, some Ave Maria University alumni called on their alma mater to rescind its invitation to DeVos to speak at the commencement ceremony, suggesting "Mrs. DeVos's policies are callous and unjust towards marginalized persons," the Naples Daily News reports.
Well, whatever negative vibes those objections might have projected onto the graduating seniors was nullified by DeVos' words of wisdom to grads a few days ago, during which she called on the students to embrace their new lives with the heart of a servant.
Citing Mother Teresa, Pope Saint John Paul II and Jesus Christ as examples, the education secretary brought the students to their feet with cheers and applause, earning the embattled leader a standing ovation, according to several news reports.
"The speech earned DeVos a standing ovation from the roughly 230 undergraduate students and their families and friends," reports WMAZ Channel 13. "The warm welcome was in stark contrast to the disapproving crowds DeVos encountered last year while speaking at the commencement ceremonies of Daytona Beach's Bethune-Cookman University, where she was booed, and the University of Baltimore, where students turned their backs."
Below is a portion of her 20-minute speech at Ave Maria University's graduation ceremony on May 5:
Your model for service — our model — is a diminutive Albanian nun we now call saint. When Ave Maria opened the country's first museum to Teresa of Calcutta, it was an honor President Towey knew would have made her blush. But the museum serves as an inspiration to live as Mother Teresa did, humbly serving "the least of these."

I'm inspired daily by a painting in my home. It is a poignant portrait of Mother Teresa embracing a group of children. And I think of a story I'm sure some of you have heard before.

Mother Teresa reportedly visited a bakery to ask for bread for orphans. Rather than responding to her request, the baker spat at the nun. Teresa took out a tissue, wiped her face and said: "OK. That was for me. Now, what about the children?"

That's a question we must ask ourselves every day. We may face spitting and derision, but we should always return to the essence of the question she posed: what about the most vulnerable… the forgotten among us?

One of the many pernicious effects of the growth of government is that too many have abdicated responsibility for one another. Ever-growing government has inserted itself into relationships, making folks less connected and more insulated from the needs of others.

In the Gospel story we all know well, the disciples urged Jesus to dismiss a hungry crowd of 5,000 to go and buy food on their own. Jesus said, No, you feed them. You. Jesus didn't instruct the disciples to lobby the Roman Empire for more food assistance. He said, you do it.

America is the most prosperous nation on the face of the earth, and it's also the most generous. But that strong tradition isn't just passed along from generation to generation in the blood stream. It's taught. It's learned. It's shared. To keep a lamp burning, Mother Teresa believed, we have to keep putting oil in it.

Service, then, is ultimately about humbly choosing to see the face of Christ in your neighbor and recognizing and addressing their needs. That opportunity to serve often happens with the quiet voice of the Holy Spirit urging you to act.

My friend and author Clare De Graaf came up with what he termed the "10 second rule." When you think you are prompted, take 10 seconds. Stop. Pay attention. Pray. Then "do the next thing you're reasonably certain Jesus wants you to do."

That means being open to possibilities that aren't pre-planned. Up until this point, you may feel like your life has been ordered for you and you have reached this new chapter rather perfunctorily… class to class, grade to grade, graduation to graduation. But you will find in your careers, your lives, your faith journeys that nothing is as predictable as it seems.

Think of a fine-looking needlepoint tapestry. When you look at the "right side," it is beautiful in both design and execution. But when you flip it over, it's a mess! It's filled with knots and stray threads. It looks chaotic. The same is true when reflecting on a life well-lived, you remember each thread, and you learned from each knot. What appears perfect in form and design to others is actually comprised of many imperfections.

So, I encourage you to embrace the mess. Know that your life won't always unfold according to plan. Anticipate being called to something different, to something unexpected. Be not afraid! Don't avoid a change in course, an alternate path. Don't fear the unknown; step out with faith onto those stormy waters!

You're blessed to live in the most successful and most free country in the history of human civilization. But there are those who are vulnerable, those who are forgotten right around us.

"Find your own Calcutta," Mother Teresa begged us. "Find the sick, the suffering and the lonely right there where you are — in your own homes and in your own families, in your workplaces and in your schools."

So, here's a question for each and every one of you:

Where is your Calcutta?

What will you do to put your newly gained skills to work in the service of others?
Read her full speech here.
MORE: Trump snubbed? Prominent universities shun president as grad speaker, again
Like The College Fix on Facebook / Follow us on Twitter