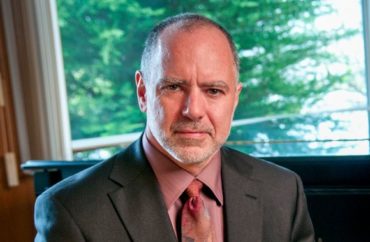 Discontented DePaul University School of Music students recently got their two-year-long wish — the resignation of Dean Ronald Caltabiano.
According to The DePaulia, Caltabiano, who became dean in 2016, tendered his resignation on September 16 citing "personal reasons."
Associate Dean for Academic Affairs Katherine Brucher, also a music professor, will replace Caltabiano in the interim.
"It is with great sadness that I step aside from my role as dean of the School of Music," Caltabiano said in a statement. "It's been an honor of a lifetime to work with such talented students, faculty, and staff."
Many DePaul music students weren't unhappy at the news; two years ago the Student Coalition for Diversity and Inclusion at DePaul's School of Music ripped Caltabiano for "disregarding" student concerns and being "ineffective in creating a safe space for students of color."
When black students had problems completing work in the wake of George Floyd's murder, Caltabiano allegedly "showed a lack of sensitivity and understanding." Students also were cheesed that Caltabiano left an "important [virtual] discussion on racial inequality and representation" … because he had to teach a class.
Other beefs included a "lack of genuine support, respect, or apology" regarding the virtual race discussion, his "acceptance of hierarchical injustice" and being "disrespectful" by asking a student to throw away a coffee cup.
MORE: Brown U. offers course on classical music and 'settler colonialism'
Upon hearing of Caltabiano's departure, senior jazz studies senior Alejandro Salazar said the School of Music should hire a black woman as a replacement: "This school has been run by all white men, so let's just do the complete opposite."
Generally, Salazar said, the SOM should have more leaders and professors representing the students they teach, as well as teaching the music born from their respective demographic.

"We need Latinos teaching Central and South American and Caribbean music," he said. "To me, it's logical. So many other schools get it, but for some reason, this school just doesn't."

There are many talented students of color coming in and out of DePaul, Salazar continued.

"For us to look up to and be like, 'yeah you like us, I've seen people like you all of my life, and you're doing this thing at such a high level,'" he said. "That's so inspiring for people of color, to see someone like them do the thing, be the leader."

Connor Sullivan, bass player and first-year jazz studies student, echoed Salazar's sentiments and hopes to see more representation in the SOM's faculty.

"We have no world music degrees either," Sullivan said. "We have a small number of classes for world music and African music which is super influential on what we're listening to today."
Alumnus J Holzen, who's transgender, remembered a "difficult and uncomfortable" time at the School of Music, noting one of their concerns was an alleged lack of gender-neutral bathrooms. They said they hope Caltabiano's replacement has a "healthy awareness for what they can and cannot do."
MORE: 'Ethnomusicologist' connects migrant children crisis to Trump, U.S. colonialism, white supremacy
IMAGE: DePaul School of Music screencap
Like The College Fix on Facebook / Follow us on Twitter