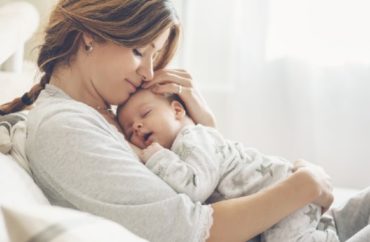 Ten prominent health experts affirm the use of 'sex-based language' in situations of life and death
An important article published in Frontiers in Global Women's Health, an academic journal about healthcare issues for women worldwide, affirms the use of universal terms like "mother" rather than "gender-neutral language" in communicating about women's health.
Ten authors contributed to "Effective Communication About Pregnancy, Birth, Lactation, Breastfeeding and Newborn Care: The Importance of Sexed Language," including academics Melissa Bartick at Harvard Medical School; Susan Bewley of the Department of Women and Children's Health at Kings College London, and Nils Bergman from the Department of Women's and Children's Health at Kaolinska Institutet in Stockholm, Sweden.
The authors begin by citing a September 2021 cover article in the prestigious medical journal The Lancet, which stated in large text, "Historically, the anatomy and physiology of bodies with vaginas have been neglected."
The authors take issue with such statements, which have multiplied in recent months as publications and authors replace words like "woman" and "mother" with ''gender-neutral' terminology.
The "good and important intention behind these changes is sensitivity to, and acknowledgment of, the needs of people who are biologically female and yet do not consider themselves to be women because of their gender identity."
It's unclear to me which "needs" are cited here and how these changes might affect them, but I enthusiastically affirm the authors' thesis: "there are risks to desexing language when describing female reproduction."
I'd go further and recommend that we should retain "sexed language" – ordinary terms like "mother" and "woman" interpersonally when describing people of this sex category, and especially when referring to the relationship between mother and child.
"Desexing the language of female reproduction has been done with a view to being sensitive to individual needs and as beneficial, kind, and inclusive," according to the article. "Yet, this kindness has delivered unintended consequences that have serious implications for women and children."
"These include: decreasing overall inclusivity; dehumanizing; including people who should be excluded; being imprecise, inaccurate or misleading; and disembodying and undermining breastfeeding," it continued.
"In addition, avoidance of the term 'mother' in its sexed sense, risks reducing recognition and the right to protection of the mother-infant dyad."
'Queer Theory' has canceled terms like 'mother' and 'woman'
The paper nods to "Queer Theory-informed" discourses in discussing "gender identity" – "an individual's internalized sense of being masculine, feminine, or something else."
Due to recent American developments in postmodern "Queer Theory," "words such as 'woman,' and 'mother' can have both sexed and gendered meanings," the authors acknowledge.
However, "voiding sexed terminology in relation to female reproduction works against the plain language principle of health communications," the authors wrote. In particular, "those who are young, with low literacy or education, with an intellectual disability, from conservative religious backgrounds, or being communicated to in their non-native language are at increased risk of misunderstanding desexed language."
Women of varied backgrounds globally may need to hear "mother" and "woman" to understand the healthcare they need to ask for, or are receiving, the authors wrote. "Breastfeeding" makes much more sense to most people than the gender-neutral "chest-feeding." "Bodies with vaginas" or "a person with a cervix" may not compute.
Indeed, the paper's authors affirmed that "referring to individuals in this reductive, mechanistic way is commonly perceived as 'othering' and dehumanizing," and violates the "longstanding" efforts to "eliminate dehumanizing language in medical care."
Desexed language is 'cultural imperialism'
The papers' authors also warn against the parochialism of the "impetus to desex language." They remind us that this gender theory-motivated impetus "flows from a philosophy developed in the USA and within which American understandings and priorities predominate."
"In the context of global public health, an increasing encouragement, or requirement, to desex language by international organizations or funders based in the USA/the West may be experienced not only as confusing but also as cultural and linguistic imperialism," the authors wrote.
"This view was recently expressed by over 250 breastfeeding counselors from 45 countries…who stated that changes in language requirements were being experienced as 'colonialist' and 'oppressive,'" they continued. "Organizations and individuals have a responsibility to avoid imposition of Western ideas that may cause harm to those with whom they work."
'There is a word for mother in every language'
The need for sexed language goes even beyond the need for clarity, precision, and respect for cultural differences, the authors write. The word "mother" is essential:
There is a word for mother in every language. It is commonly the first word said by children and is perhaps the oldest word ever spoken…'Mother' holds meaning beyond that of 'female parent' containing connotations of 'nurturing,' 'nourishing,' 'love,' 'responsibility,' and 'child rearing' that support the importance of mothers to children.

The alternative desexed terms for 'mother' have similarities to these modifications by consisting first of avoiding 'mother' and/or the subsequent addition of an adjective referring to a process (birth, lactation, or breastfeeding). These language changes have the potential, through linguistic processes, to undermine recognition of what mothers mean to all infants. This undermining may have the most deleterious impact in situations of adversity where mothers and infants are most in need of protection: such as circumstances of high maternal or infant mortality; during disasters; when infants are sick or premature; or where the mother-infant relationship is in jeopardy due to poverty, intergenerational trauma, domestic violence, incarceration, poor maternal mental health, or substance use.
"Bodies with vaginas" is an American academic invention; "mother" is universal. Global health experts should prefer the latter in most cases at least.
In my view, the publication of this paper by nearly a dozen scholars from elite institutions is a victory for women's health. It decisively affirms the importance of universal "sexed" language for reasons of clarity, precision, and cultural sensitivity in meeting the medical needs of women around the world.
Mothers and their babies deserve nothing less.
MORE: Air Force Academy tells cadets to use 'gender-neutral language,' avoid 'Mom and Dad'
IMAGE: Alena Ozerova/Shutterstock
Like The College Fix on Facebook / Follow us on Twitter