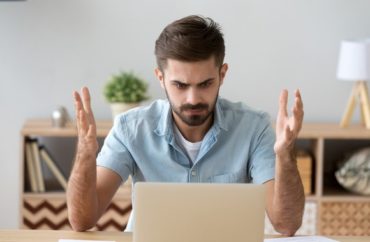 UPDATED
'Our opinion shouldn't be discouraged or discredited'
Marquette University required a student to explain his opposition to mandatory gender-neutral language in each assignment in order to avoid a grading penalty.
The compromise was reached after Josh Guckenburg reached out to John Su, vice provost for academic affairs, about his ongoing conflicts with James Bahoh, who taught his Foundations in Philosophy course.
Political science professor John McAdams featured the dispute on his personal blog last week after Guckenburg shared his communications with Bahoh and Su.
McAdams, who won a lawsuit against the private Jesuit university for trying to fire him for blogging, said Bahoh "went too far" by promising to penalize the student for not using "gender inclusive" language, such as referring to humanity as "man."
Guckenburg told The College Fix in a phone interview that he wants to have a reasonable connection to his professor, rather than for Bahoh "to gripe [and] create grievance and [for students to] hear an echo chamber."
He's critical of how professors can make a big deal about offensive topics and incorporate their offense into the curriculum. "Everyone is entitled to their own opinion, but our opinion shouldn't be discouraged or discredited," Guckenburg said: "It should be rather to challenge these ideas."
Guckenburg believes the current relationship between students and professors is one-sided, where students are treated as mainly listeners when they should be collaborators.
It's a 'stupid ass book' but 'Thanks for the suggestion'
Even before the gender-neutral incident, Guckenburg was bothered by the classroom behavior of Bahoh, whose specialty is ontology within German and French philosophy.
The visiting assistant professor characterized a book by conservative pundit Ben Shapiro as a "stupid ass book," and Shapiro "a fucking idiot," when Guckenburg suggested he read it as a work of social political philosophy, the student told The Fix.
He noted that Bahoh sent an apologetic email to Guckenburg as the student was returning to his dorm room.
MORE: Penalized for saying 'he' in class
"Just a quick note to apologize for dismissing the Shapiro book you suggested so quickly," Bahoh wrote to him. "I love reading and love reading a big variety of things by quite a variety of authors. I'll make a point to read the book you suggested when I have a chance. Thanks for the suggestion."
In a classroom lecture, Bahoh complained that Marquette paid him little to teach, comparing how much he earned to how much students pay for their educations each semester.
The point was to discredit Adam Smith's economic philosophy as dated and challenge the arguments supporting unregulated capitalism, according to Guckenburg. The professor also took sides in classroom discussions on Marxism among other topics.
The final straw was Bahoh warning Guckenburg he would be penalized for not using gender-neutral language in assignments.
Footnote should explain why he 'reject[s] gender-inclusive language'
The student went to Su, the vice provost, to mediate the dispute with Bahoh. Su summarized their meeting in a followup email posted by McAdams.
The vice provost had "several rounds of conversation" with the chair of the philosophy department, Kevin Gibson, and talked with Bahoh over email about Guckenburg's "request to use gender-specific pronouns in formal written work without penalty."
Bahoh agreed to accept "a version of what you and I discussed," which was for Guckenburg to append a "footnote" to his "first usage of a gender-exclusive or gender-specific pronoun" that explains it is a "deliberate choice."
The footnote need not be longer than two sentences, Su wrote. He suggested the student acknowledge he is departing from the American Philosophical Association's "Guidelines for Non-Sexist Use of Language," in order to represent "my personal beliefs" and "authentic voice."
MORE: College encourages students to report gendered language
Bahoh also asked for the footnote to specify why Guckenburg "reject[s] gender-inclusive language," according to the vice provost.
McAdams celebrated the result of Guckenburg's protest, even as he insisted that "standard English the way it was for centuries before the advent of modern political correctness should be acceptable without explanation."
The student negotiated down to a "fairly modest" imposition because he was willing to "stand up to a leftist professor's demands that his speech be censored," McAdams wrote.
Marquette media relations, Bahoh and Su did not answer phone calls or emails from The Fix for interviews about the incident.
Should not have to get graded down to learn what bothers professor
Guckenburg told The Fix he was satisfied with the resolution of his complaint, calling it an example of the kind of cooperation he wants to see between faculty and students.
He came to Marquette expecting to hear views different from his own conservative perspective. Professors have responsibilities as both a "mentor and a figurehead, and that can be both good and bad."
It's better that students and professors voice their concerns to each other. Students are generally not given guidelines as to what words or topics will trigger their professors, and they end up learning only when professors grade them down, Guckenburg said.
Asked how much room Bahoh was willing to give for debating ideas, Guckenburg said his experience was that students can write down their questions "if you're confused" and the professor will "clarify the questioning."
Students basically have the choice of vocally agreeing with Bahoh or staying quiet to avoid a problem,  which reaffirms personal bias during lectures, he said.
CORRECTION: The original article misspelled the student's name throughout. The spelling has been fixed. The headline has also been changed.
MORE: Catholic university language guide says avoid 'husband/wife'
IMAGE: fizkes/Shutterstock
Like The College Fix on Facebook / Follow us on Twitter