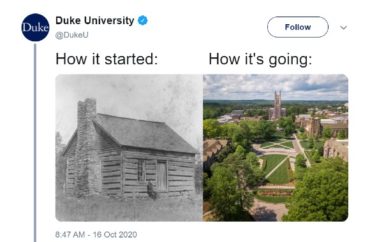 Duke spokesperson apologized for 'causing distress'
Both Duke University and the University of North Carolina-Chapel Hill recently apologized for separate tweets after some accused the accounts of promoting racism.
Duke University's social media team wanted to take advantage of a Twitter trend commonly referred to as "how it started/how it's going" where users post photos that depict weight loss, stages in their relationship or other success stories. The original tweet is seen in the featured image.
Duke's student paper The Chronicle reported:
The left-hand side of the now-deleted tweet featured a photograph of Brown's Schoolhouse, founded in 1838 and the first in a series of institutions that eventually became Duke, captioned, "How it started." On the right, a modern-day aerial photograph of the Duke Chapel and Abele Quad was labeled, "How it's going."
However, the school "deleted the tweet after members of the Duke community and other Twitter users expressed concern for its lack of acknowledgement of racism in Duke's history," The Chronicle reported.
"As can happen when serious topics are touched upon with two pictures and a few hundred characters, [the tweet] lacked full context," school spokesperson Michael Schoenfeld told the paper.
"As alumni and students responded to and amplified the tweet, sharing their deeply personal and sometimes painful experiences at Duke, our social media team realized it was causing distress, not awareness," Schoenfeld said.
(2/2) It is clear our intended message of growth and progress instead evoked a painful history of oppression and racism. We sincerely apologize for this, and for our failure to recognize the unintended meaning the post would convey. The post has been deleted.

— Duke University (@DukeU) October 17, 2020
UNC found itself in hot water after jumping on the trend, too.
The public university's tweet "featured a Black child in a suit next to a white woman planting a tree on campus," WRAL reported.
"Then, a second photo showed the child as a man and the tree grown, according to a UNC student who saw the tweet," WRAL said.
"On Friday we posted a tweet that included an image from 1993 that evoked painful memories of racism and slavery," the school wrote on its Twitter.
"We have heard your voices and deleted the post," the school said and "apologize for posting the image without realizing its potential impact and for the hurt it caused."
MORE: Duke law students demand disinvitation of speaker for opposing gay marriage
MORE: High school investigates coach for tweet criticizing gay marriage
IMAGE: Duke University/Twitter
Like The College Fix on Facebook / Follow us on Twitter