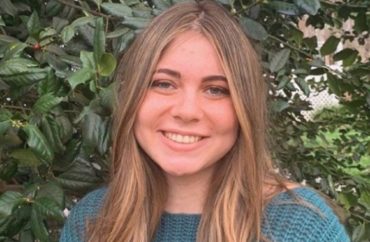 'What if an experienced mental health professional had been consulted?' paper editor asks
An editor with The Chronicle, Duke's student newspaper, wants to know why a police officer had to shoot a patient firing rounds inside an emergency room.
A campus police officer shot and killed a man who had been arrested earlier and taken to Duke University Hospital for medical treatment, according to a statement from school officials on January 15. The incident occurred on January 14. The arrestee stole a Durham cop's gun and began firing it inside the ER.
Lily Levin, the social media editor for the paper's opinion section, said the cop acted wrongly.
"DUPD's Use Of Force policy authorizes lethal force in situations where it is deemed 'objectively reasonable under the totality of the circumstances,'" Levin wrote.
"However, the totality of the circumstances–the struggle between the police officer and the patient– was, in my opinion, entirely preventable," Levin (pictured) wrote in a February 5 opinion piece.
She wrote:
What if an experienced mental health professional had been consulted, rather than an armed cop posing a threat of physical force? How did a patient manage to attack an on-duty officer during a medical evaluation? Why was there a gun in the emergency room in the first place?

It is impossible to speculate whether or not the civilian intended to kill or injure the police officer (although the previous shots did not strike anyone). But the civilian's ability to kill instantly—and DUPD's subsequent shooting—was only made possible by the existence of an initial law enforcement firearm.
This shooting and other activism, Levin said, "should force Duke to re-evaluate the necessity and behaviors of its heavily-funded police department."
She continued to discuss stories about how the cops had not acted correctly, in her opinion. She wants the university to stop using Duke PD as the first responders for Housing and Residence Life.
"I'm writing this article, in part, as a reaction to DUPD's shooting, which displays my own disconnect with non-fatal instances of police brutality and its protection of white supremacy," she wrote. "It should never, ever take a death of a human being for us to start listening to justice advocates and abolitionists."
"To Duke admin, its endowment and trustees, and HRL: please stop spending millions of dollars to harm your students. Just take care of us instead," Levin wrote.
MORE: Defund the police student activists storm the field
IMAGE: Lily Levin/Linkedin
Like The College Fix on Facebook / Follow us on Twitter