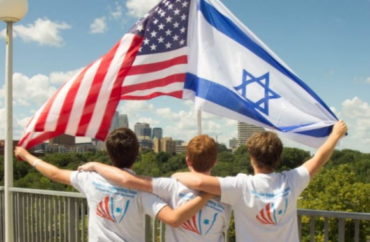 'One of the most important things that this process showed us — the strength of the pro-Israel community when it stands united'
The Duke University student government has agreed to officially recognize a Students Supporting Israel chapter on campus after a nearly four-month lobbying campaign that was supported by Senator Rand Paul and other like-minded groups.
In November 2021, student body President Christina Wang vetoed Students Supporting Israel's initial recognition as a registered student organization. Soon after, the student government affirmed her decision.
Student leaders claimed the pro-Israel group was "violent." At issue was a Twitter spat over the topic of "settler colonialism."
The group's rejection caused some backlash for the student government, including from Sen. Paul, an alumnus of Duke's School of Medicine. Paul argued the "legitimacy" of the school's student government and the school itself was in question.
"Denying a student group recognition based on personal or political differences weakens the legitimacy of any academic institution," Paul said in a January 10 letter.
Campus leaders had already acknowledged as much, stating shortly after the veto that the decision "raised concerns about whether students have been treated in accordance with university policy that prohibits discrimination and harassment based upon national origin and religion, which includes anti-Semitism."
However, campus leadership found something of a work-around, providing institutional backing to Students Supporting Israel.
"To be clear, the actions of Duke Student Government are independent of, and not determined by or sanctioned by, the university. Nor does a lack of formal recognition by student government prevent students from organizing in groups as they wish; there are many organizations that continue to operate at Duke in different ways without such recognition, and the university has identified options for SSI to secure financial and programmatic support," administrators stated.
But pressure and backlash mounted. In addition to Paul's letter, groups such as the Foundation for Individual Rights in Education, the Louis Brandeis Center for Human Rights Under Law, the North Carolina Coalition for Israel, Stand With Us and many others reportedly wrote letters supporting Students Supporting Israel's official recognition.
"[T]he university delegates to the student government its authority to recognize student groups and to distribute the university-collected student fees, which students are required by Duke to pay in addition to tuition and other expenses," FIRE said in a December letter.
"The students who attempted to start the SSI chapter on campus pay these student fees. However, they have been deprived the opportunity to access these fees and associate on campus, even though Duke promises its students the right to do so."
The student government allowed Students Supporting Israel to reapply to become a registered student organization. The senators were advised to view the application as a new one and to purely judge the club based on its presentation and mission statement and not previous actions, the Chronicle student newspaper reported.
"Senators approved the recognition unanimously, with some abstaining," it reported regarding the vote in late February.
Both Duke University and Duke Students Supporting Israel declined to comment to The College Fix.
The pro-Israel Alums for Campus Fairness praised the decision to recognize the group.
"Holding SSI to an impossible standard was always unacceptable. No other student organization had its social media monitored or was held to abide by unwritten rules," it said in a Feb. 25 statement. "… We applaud SSI for standing against antisemitic discrimination at Duke and for continuing to fight until SSI was reinstated at Duke."
In a Feb. 25 statement to the Jewish Press, members of Duke's SSI chapter said "that almost four months after the veto of our club, tonight the Duke Student Government did the right thing and unanimously approved SSI to be officially registered on campus again like it should have been from the very beginning."
"[W]hile much can be said about the events of the past four months, in this message we want to highlight one of the most important things that this process showed us; the strength of the pro-Israel community when it stands united. Many organizations, community members, reporters, students, and faculty stood by our side in the process of seeking to overturn the veto."
Students Supporting Israel has campus chapters nationwide at both high schools and colleges.
"Students Supporting Israel chapters exist to support students in student-led, grassroots, pro-Israel advocacy," its website states.
MORE: Duke student government rejects pro-Israel group in reversal vote
IMAGE: Students Supporting Israel Facebook screenshot
Like The College Fix on Facebook / Follow us on Twitter