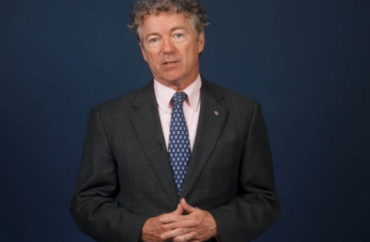 For Students Supporting Israel, recognition is the basis of respect
Kentucky Republican Sen. Rand Paul has joined the free speech group Foundation for Individual Rights in Education in calling on Duke University to officially approve Students Supporting Israel, a Zionist campus advocacy organization.  
Paul, who graduated from Duke's medical school, recently sent a letter that asked university officials to reverse a student government denial of the pro-Israel club.
The student government had issued a rare veto of the organization in November, a denial that not only hurt the student activists who want to advocate for Israel, but also Duke's overall "legitimacy," Paul said.
"Denying a student group recognition based on personal or political differences weakens the legitimacy of any academic institution," Paul said in his January 10 letter.
Though it initially recognized Students Supporting Israel, the student government quickly reversed its decision with the veto following the pro-Israel group's message to a student on social media. The student, Elyana Riddick, had accused Duke on Twitter of supporting "settler colonialism" by recognizing the group.
Students Supporting Israel had posted a screenshot, since deleted, of Riddick's tweet on its Instagram account, along with a comment: "Please allow us to educate you on what 'settler colonialism' actually is and why Israel does not fall under this category whatsoever."
The group did not contact Riddick personally or inform her that her tweet would be shared, she said. She added that the group's actions "made her feel unsafe expressing her opinion on campus," in a statement quoted by the Chronicle, Duke's student newspaper.
Senator Paul said that the group's public disagreement with a student should not threaten its standing.
"More voices, more viewpoints, and more debate will always be beneficial to the student body," the Kentucky Republican said. "Robust debate is an important part of college development."
He concluded by asking for "full recognition" for Students Supporting Israel.
In a November 24 statement, President Vincent Price and Provost Sally Kornbluth stated that he student government decision "raised concerns" that students faced discrimination and harassment based upon national origin and religion, which includes anti-Semitism."
The affirmed that the group can continue to organize on campus and that university officials have "identified options for SSI to secure financial and programmatic support."
Free speech group says this does not cut it
But this is not enough, according to the Foundation for Individual Rights in Education. 
"[T]he university delegates to the student government its authority to recognize student groups and to distribute the university-collected student fees, which students are required by Duke to pay in addition to tuition and other expenses," FIRE said in a December letter.
"The students who attempted to start the SSI chapter on campus pay these student fees. However, they have been deprived the opportunity to access these fees and associate on campus, even though Duke promises its students the right to do so."
Both Students Supporting Israel members and Riddick, their peer who posted the criticism, would benefit from the group being on campus.
In political or campus controversies, valuing emotive, hasty reaction (particularly on social media) over reasoned debate can deter everyone from discerning the prudent course of action — and that applies to the pro-Israel students, Riddick, as well as the student government leaders.
It's hardly news to anyone that Israel is a contentious topic, on-campus as well as off.
However, rather than attempting to adjudicate between competing victim claims of "settler colonialism" on one side and "antisemitism" on another, the university has the obligation to remain neutral and allow groups to advocate for themselves.
This includes the recognition of Student Supporting Israel's right to freely associate with the support and resources of the university, as Senator Paul and FIRE argue.
A November 24 statement by Price perhaps best summarizes the claims on both sides:
Israel and Palestine, and the long history of conflict and violence that have afflicted that region of the world and its peoples, are subjects of continuing intense and passionate debate…Perhaps in proportion to the understandable intensity and the deep sense of human justice and injustice with which these issues are entwined, they sometimes veer into rhetorical territory that dehumanizes and distances rather than engages.
"On our campus and beyond," President Price wrote, "the lines of politics, trust, activism and civility cannot become so blurred that we lose our commitment to mutual respect."
Mutual respect entails recognition, and Students Supporting Israel deserves as much.
MORE: VP Harris thanks student who accuses Israel of 'ethnic genocide'
IMAGE: YouTube screenshot
Like The College Fix on Facebook / Follow us on Twitter