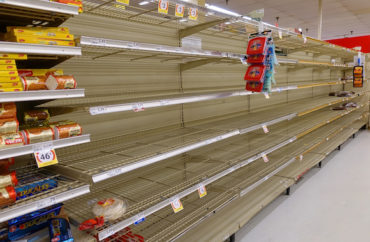 'The price needs to be higher for the common good'
Five economics professors from Hillsdale College are claiming the best way to fight the recent shortages of consumer goods is to let the prices rise on high-demand items, arguing that to do so is constitutive of the "common good."
In a letter the academics published in The Detroit News, they explained that Michigan's attorney general, who recently warned companies not to "price gouge" during the coronavirus panic-buying,  "is worsening shortages by threatening businesses that raise prices more than a modest amount."
"One on one, it's indeed wrong to take advantage of someone's desperation to drive a hard bargain. In an open market with competition, though, a shortage is telling us that the price needs to be higher for the common good. Higher prices would induce people to cut back panic buying and leave enough on the shelf for others. Businesses would shift into even higher gear to produce scarce goods," the professors argue.
Two of the letter's authors, Gary Wolfram and Charles Steele, expanded on their economic theory to The College Fix via email interviews.
"If you do not let prices rise, then you will not have an increase in the amount of the good being produced and you will guarantee a shortage.  People will line up and whoever can get there first gets the good," Wolfram said.
He cited as a hypothetical "the single mom with two kids does not get milk because she was late getting to the store and I bought 15 gallons of milk and put them in my freezer in case I need milk later."
"You will also have an incentive to create a black market where I get to the store first and buy up a lot of the good and then resell it at higher prices to others," he added.
Certain consumer goods such as toilet paper, paper towels and hand sanitizer have been disappearing from store shelves at a rapid rate across the country as people buy and hoard them for fear of the coronavirus pandemic. Foodstuffs such as pasta, canned goods and meats have also been snatched up by consumers.
'This is destructive'
Steele pointed out that the frightening images of empty store shelves are the result of prices that are too low. "Letting prices rise reduces the chances of shortages. We're seeing now what happens when sellers try to hold prices down when demand suddenly soars – stores are stripped bare. This is destructive," he said.
Allowing prices to rise "incentivizes buyers to conserve and be more careful in how they use the goods. It also incentivizes producers to provide more and to innovate to increase supplies. These are exactly the things we want to happen, especially in a crisis. Incentivize conservation, careful use, provision of more."
Steele said he has observed panicked buyers in Hillsdale, Michigan openly admitting that they're over-purchasing.
"I talked with people in checkout lines who told me, 'I don't really need all this now, but it might not be available if I don't get it. The way things are going this might be my last chance.' Rising prices would have helped reduce or stop that. Not letting prices rise is destructive and wasteful. For government officials to begin investigating firms for 'charging too much' is pernicious. It's socially harmful. It hurts consumers."
Steele said there are two reasons for why price gouging is condemned by government officials: One, buyers don't like higher prices, and two, people on all sides of the political spectrum dislike the idea of someone profiting off of items they need. He disputed those arguments.
"I'd rather have the goods I need and have them cost more than have money and nothing to buy. Most people would, if they'd think about it for a moment."
Analyzing both the artificially low prices and the panicked shopping behavior which results, Wolfram quoted Sherlock Holmes's famous critique of Watson: that he "sees but does not observe."
"People see the price rising but do not observe that there is no shortage.  When prices are kept from rising they see the lines but blame it on 'hoarding' or failure of businesses to keep goods stocked," he said.
"People are already upset by the threat of coronavirus. Now we add to that shortages and economic chaos. It's a bad thing," Steele said.
"Our perverse dislike of free markets, the one thing that could help reduce the chaos, leads us to restrict them even more. Government pursuit of 'price gouging' and calls for price controls are helping to make a bad situation much, much worse."
MORE: Economists skeptical that UVA can afford expensive new 10-year plan
IMAGE: Jillian Cain Photography / Shutterstock.com
Like The College Fix on Facebook / Follow us on Twitter