Goals devised in 'a period of relative prosperity and good times' that won't last
As the University of Virginia implements a sweeping new plan for the university's next decade, one of its own economists is demanding to see the return on its previous investments.
Carter Doyle challenged the public university's approval of President Jim Ryan's strategic plan, "A Great and Good University: The 2030 Plan," in an interview with The College Fix.
Although UVA has a broad range of economic, academic and institutional initiatives it intends to implement over the next decade, the financial implications of the plan have yet to be spelled out.
Professor Doyle is critical of how the university has historically measured success in terms of its strategic plans.
UVA was tied for second among public universities in U.S. News rankings when he arrived five years ago, he wrote in an email. "[A] strategic investment fund was disclosed a few years ago, and 'investments' have been made in programs, institutes, etc.," yet UVA has fallen to fourth place in the latest rankings, Doyle lamented.
Another economist who specializes in higher education bubbles also thinks UVA's ambitious plans will run headlong into both economic and social trends.
"I think this [2030] document is being written in a period of relative prosperity and good times and I'm not sure if that's going to hold forever," Richard Vedder (below), distinguished professor of economics emeritus at Ohio University, told The Fix in a phone interview.
"Are they making the sort of naive assumptions about the future of public support of the University of Virginia, and also private support in terms of philanthropic donations?" he asked rhetorically.
MORE: UVA lays out expensive vision for 'just and sustainable community'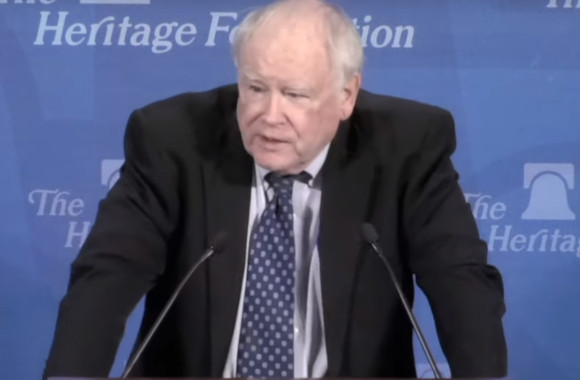 'Before venturing on to something so big – have the past investments been great/good?'
President Ryan's plan seeks nothing less than to create a "just and sustainable community."
Its nearly 40 goals include diversifying faculty, expanding opportunities for low-income and first-generation students, increasing the minimum wage on campus and even improving transit options in the Charlottesville region.
"The usual first question out of one's mouth when asking them to make an investment in the future," as with the 2030 Plan, is "how have you been performing?" Professor Doyle told The Fix.
The economist anticipated how administrators and other boosters of Ryan's plan may respond to his criticisms.
"Of course, rankings [like those of U.S. News] have flaws, and people may push back and say we will see the 'returns' more long term, or we are after something else, etc.," Doyle wrote:
However, there is a money trail to where money went and statistics about what it is accomplishing, or frankly not. Before venturing on to something so big [as the 2030 Plan] one may like to know – have the past investments been great/good?
MORE: Student government in wealthy county claims students are starving
The university needs to set out metrics on "what it means to be great and good" so that it can "measure returns from strategic investments to know when we are 'there,'" Doyle (left) said.
Ohio University's Vedder, who claims universities increasingly "lie and cheat" both students and the general public, argues that expectations for higher education in America are "not particularly rosy."
UVA is "running this plan at a time of national unemployment at 3.7 percent [when] the economy is doing very well," but these conditions will become far less favorable at some point in the next decade, he told The Fix.
Vedder emphasized that declining birth and enrollment rates across the country will cause the competition for students to "grow more intense," even for elite institutions such as UVA.
"It is appropriate for universities to have expansive dreams and hopes, and it's appropriate for universities to strive to gain resources," he said, but some of UVA's goals appear to be "wishful thinking" in light of these headwinds.
'It sounds nice, but what business is the University of Virginia in?'
UVA is at risk of straying far from its core competencies with its expansive plans, Vedder said.
"It sounds nice – let's have higher wages for everyone, let's rebuild the low-income parts of Charlottesville, new housing for everyone, but what business is the University of Virginia in?" he asked.
"Are they in the education business, or are they trying to establish social welfare for a subset of the population of Virginia?" Vedder continued. "I don't think it can probably afford to be both, nor do I think it's appropriate to try to do both."
The university is also hampering its own ability to "maximize effectiveness of dollars it receives from taxpayers and well-meaning donors" by promising to boost the minimum wage to $15 for all full-time employees.
In contrast to large companies such McDonald's and Walmart voluntarily raising wages to attract good workers, UVA's plan to negotiate for higher wages for contract employees strikes Vedder as misguided.
"Are they not in doing that ultimately increasing the prices that consumers will pay?" he said. Vedder (below) emphasized that an increase in worker wages could increase the price of student services such as room and board, contradicting the 2030 Plan's mission to aid low-income students.
MORE: 'Universities increasingly lie and cheat' because they get away with it
IMAGE: pathdoc/Shutterstock
Like The College Fix on Facebook / Follow us on Twitter