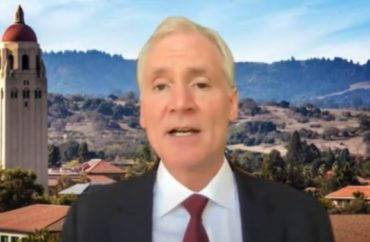 Stanford University's president faces criticism for problems in past research papers
Stanford University president continues to face troubles over prior papers he contributed to, with three papers now being appended with notes of concern.
President Marc Tessier-Lavigne currently faces an investigation by Stanford after questions were raised by campus newspaper The Stanford Daily.
Science announced on December 15 it added an "Editorial Expression of Concern" to a 2001 paper that Tessier-Lavigne co-authored.
The researchers did alert Science in 2015 of errors with the paper, but the publication never updated it. The errant images are part of the investigation into Tessier-Lavigne (pictured).
The Stanford Daily reported:
The Expressions of Concern will be affixed to the top of the three papers to inform readers of the concerns and encourage anyone who may work with the research to be cautious. They are not in and of themselves corrections or retractions and could be removed in the future if the investigation determines the papers still stand. They could also turn into further action on the part of the journals.

According to Thorp, Tessier-Lavigne consented to the publication of the Expressions of Concern and has been in regular contact with the journals. Tessier-Lavigne wrote, through a University spokesperson, that "the notifications appropriately alert the research community and represent an important step in the process of evaluating the concerns."
One other paper was in Science and another was in Cell, according to the website Stat.
MORE: UNC research director cited for plagiarism and misconduct
IMAGE: Commonwealth Club of California/YouTube
Like The College Fix on Facebook / Follow us on Twitter