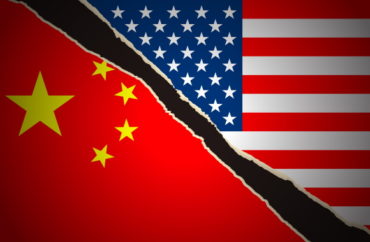 While the Education Department did not meet a Monday deadline set by a group of Congressional Republicans to hand over documents on China's infiltration of higher education in the U.S., talks are ongoing, a GOP spokesman told The College Fix on Tuesday.
"We have been in regular communication with the Department on this request and they have been very responsive in addressing it," said Nate Madden, spokesman for the House Republicans, in an e-mail to The Fix.
A May 4 letter to Education Secretary Betsy DeVos* from several top House Republicans asked the Education Department to turn over documents on all findings or reports detailing gifts from China to U.S. colleges and universities, as well as details on all open and closed investigations by the Education Department "regarding false or misleading reporting of foreign gifts."
The letter also requested a staff-level briefing be conducted by May 11.
The cooperation comes as the Education Department has already stepped up its regulatory oversight into China-U.S. higher education relationships.
In April, under pressure from the U.S. Department of Education, American universities reported nearly $1 billion in previously undisclosed funding from foreign governments. Of that amount, $144 million came from China, distributed across 48 American institutions over the last six years, according to The Clarion Project.
According to a statement provided Tuesday to The Fix by an Education Department spokesperson, DeVos is "grateful for the support of these members of Congress as we continue our work to hold institutions accountable for accurately reporting their foreign gifts and contracts."
"This work is especially important because we know some institutions solicit and accept large sums of foreign funding from nations hostile to our national security and economic interests," the spokesperson stated. "We look forward to continued collaboration with Congress and other federal agencies to ensure that colleges and universities follow the laws of foreign gift and contract reporting."
The issue of China's infiltration in U.S. higher educational institutions became more pressing last week when a University of Arkansas professor was arrested and charged with wire fraud for failing to disclose his ties to the Chinese government.
The Justice Department alleges that Simon Ang, head of the UA High Density Electronics Center, failed to reveal his connections to China when he applied for grants from NASA.
The GOP lawmakers have expressed concern that China is using American institutions of higher education to steal technology and other intellectual property.
"China has strategically invested in U.S. academia to attempt to steal confidential information and technology from U.S. companies, and even the U.S. government," their memo states.
In their May 4 letter to DeVos, the House Republicans also blamed Chinese university entanglements for making the nation's response to the COVID-19 pandemic more difficult.
"China is restricting any research regarding the origins of COVID-19 that does not comport with [Chinese Communist Party] propaganda," wrote the House Republicans. "To nations battling peak pandemic outbreaks, the CCP's machinations undoubtably hamper the global response to the pandemic."
The Congressional probe comes in the wake of several years' worth of growing concerns over China-U.S. higher education relationships.
In March 2018, the FBI released a report indicating some foreign scholars on American campuses "seek to illicitly or illegitimately acquire U.S. academic research and information to advance their scientific, economic, and military development goals." The report noted the Chinese government "has historically sponsored economic espionage, and China is the world's principal infringer of intellectual property."
At a follow-up Senate hearing, then-Assistant Director for the Counterintelligence Division Bill Priestap concluded talent recruitment programs sponsored by China were "brain gain programs" that "encourage theft of intellectual property from U.S. institutions."
On May 1 of this year, the National Association of Scholars issued a revised list of 86 Chinese-sponsored "Confucius Institutes" attached to American universities, including six that were set to close in the summer of 2020. In March, Sen. Chuck Grassley (R-Iowa) issued a warning to universities that Confucius Institutes were "fronts for Chinese propaganda."
"U.S. Government agencies, including within the Intelligence Community, assert that the Communist Chinese Government uses Confucius Institutes embedded in our academic institutions as a propaganda tool within the United States," Grassley wrote in a letter sent to schools with active Confucius Institutes.
Earlier this month, the University of California-Davis said it would shutter its seven-year old Confucius Institute.
In addition to Jordan, the remaining six Republican lawmakers who signed on to the memo are: Virginia Foxx, ranking member of the House Committee on Education and Labor; Mac Thornberry, ranking member of the House Armed Services Committee; Mike Rogers, ranking member of the House Committee on Homeland Security; Frank Lucas, ranking member of the House Committee on Science, Space, and Technology; Devin Nunes, ranking member of the House Permanent Select Committee on Intelligence; and Michael McCaul, ranking member of the House Foreign Affairs Committee.
"We continue to work closely with Members of Congress, who share our deep concerns about this issue, on next steps," said the Education Department in its statement to The Fix.
MORE: Senators pressure their universities to drop Confucius Institutes as threat to America
IMAGE: Shutterstock.com
Like The College Fix on Facebook / Follow us on Twitter