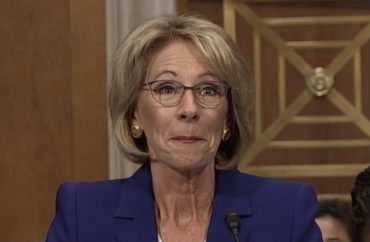 Easy for universities to continue discriminating against accused students
When The New York Times obtained a draft of proposed regulations to reinterpret Title IX from the Department of Education, it reported on the contents but didn't share the document itself with readers.
The full 120-page draft given to the Department of Health & Human Services for its review – marked "confidential/deliberative/privileged" and "controlled unclassified information" – has now been posted by the Association of Title IX Administrators. It's dated Aug. 25.
Robby Soave at Reason says he's reviewed the full draft, and it shows that critics of the reported proposal were "wildly off-base" in their claims that the draft regulations "represented some kind of attack on women":
In summary, the new rules offer a workable definition of sexual harassment, explain the circumstances in which school officials are obligated to respond to accusations, and establish "procedural safeguard" to protect both the accuser and the accused. …

Sexual harassment is defined as unwanted sexual conduct that is so severe and pervasive that it effectively denies the victim the right to an equal education. But it is also defined as sexual assault, and as quid-pro-quo harassment, in which something is offered in exchange for sexual favors. Previous guidance "exceeded the text of the statute by requiring institutions to respond to conduct less severe than that proscribed by Title IX," the new rules state. The new rules also make clear that universities are only obliged to investigate possible Title IX infringements that are actually reported to a relevant administrator.
Title IX adjudicators must use training materials that don't "rely on sex stereotypes and instead must promote impartial investigations," and importantly, make them available to accused students (who usually have to sue to see them).
Showing its preference for voluntary action rather than the threats used the Obama administration, the Trump administration's draft gives colleges much flexibility, from which evidence standard to choose (the popular and low "preponderance" is still available) to how to run appeals (no appeals, accused-only appeals, or appeals for both).
MORE: Judge orders UMich to give accused student a 'live hearing'
Colleges can also end an adjudication if they determine the alleged conduct "would not constitute sexual harassment." Soave says:
This could probably be stronger: Perhaps officials should be specifically directed not to continue investigating if no actual sexual harassment claim consistent with the definition outlined above has been stated.
Contrary to the alarmism from rape-culture activists such as Know Your IX, the draft also lets universities impose "equitable" restrictions on "the extent to which the advisor [for each party] may participate in the proceedings." But the draft is still silent on whether universities can continue running "single investigator" proceedings where there's not a hearing at all.
Soave notes this may conflict with the recent 6th U.S. Circuit Court of Appeals ruling against the University of Michigan, which instructs universities to allow cross-examination of a party by the other party's "agent" or "representative" if they block the parties themselves from cross-examining each other.
This would functionally allow lawyers some active role in hearings, but unless otherwise instructed by a court or the Department of Education, universities could simply continue running single-investigator models with no hearing to keep meaningful, live cross-examination out of proceedings. Some may ditch the hearings they currently use.
MORE: Draft regs say biased treatment of accused violates Title IX
Currently, investigators have full discretion over whether and how to pose each party's questions to the other in private interviews, with no opportunity for adjudicators to witness their demeanor. It's not credible to claim this is an adequate substitute.
Soave notes that Brooklyn College Prof. KC Johnson, co-author of The Campus Rape Frenzy, has warned this silence from the department could "generate strong pressure from accusers' rights organizations and their political and media allies for colleges to abandon hearings altogether in sexual misconduct cases, and adopt the single-investigator model in their stead."
Some reporting has focused on the estimated cost savings of the draft regulations – $328 million to $409 million in compliance costs over a decade – but that's a distraction, according to Soave.
"These rules make sensible and rather mild changes" but it's "likely that they don't go far enough":
It's more likely … that the Education Departments attempt's to remedy due-process deficiencies on campus will fail to overcome the systemic biases of a bureaucratic system under constant pressure to always and automatically believe the victim.
Read the draft regulations posted by ATIXA and Soave's analysis.
MORE: Citing 'My Cousin Vinny,' 6th Circuit requires Title IX cross-examination
IMAGE: ABC News/YouTube
Like The College Fix on Facebook / Follow us on Twitter