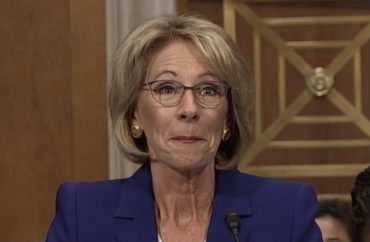 Finally, students are 'innocent until proved guilty'
Someone leaked the Department of Education's proposed regulations for reinterpreting Title IX, and advocates for due process and fair treatment of accused students – regardless of their sex – should be quite pleased.
You might overlook one of the biggest changes, which The New York Times put at the bottom of its late Wednesday article on the draft regulations:
The regulations go to great lengths to require impartiality in investigations. They call on schools to conduct objective investigations and provide "prompt and equitable" resolutions. And, for the first time, the administration explicitly says that just as an institution's treatment of a complainant could constitute sex discrimination, so would the treatment of the accused.

The regulations require that schools approach all investigations under the presumption that the accused is innocent until proved guilty.
Every Title IX bureaucrat and university president should be clutching their chest after reading that. No more free passes for blatantly mistreating accused students (overwhelmingly male), no more counting on the cost of litigation and the uncertainty of judges' views to dissuade accused students from trying to validate their rights.
This "innocent until proved guilty" thing might seem like meaningless boilerplate, but as the Foundation for Individual Rights in Education found, it's not remotely guaranteed for the vast majority of elite colleges.
Hard to know for sure, given NYT doesn't reproduce the draft proposed regulations, but the most signficant item is buried at end of article. Several recent decisions–notably Marymount and Johnson & Wales–have hinted at this approach. pic.twitter.com/kyhSScqr6B

— KC Johnson (@kcjohnson9) August 29, 2018
MORE: Obama official admits Title IX guidance isn't legally binding
While the department officially says divining the final proposed rules based on the draft is "premature and speculative," Robby Soave at Reason said he was able to confirm the department is "indeed mulling the changes" shared by the Times, which did not post the leaked draft.
If these changes make it through the upcoming notice-and-comment rulemaking for Title IX, they would bring about a sea change in campus sexual misconduct adjudications, though probably not as much as due-process advocates hope.
No more sex-jokes-as-harassment
According to the Times, the government would codify its definition of sexual harassment in educational settings and the steps "required to take to address it."
This is in marked contrast to previous administrations, particularly the Obama administration, which released nonbinding guidance that it treated as binding, threatening schools into compliance (Princeton was a notable but ultimately failed holdout).
Echoing comments by Education Secretary Betsy DeVos* when she rescinded her predecessor's Title IX guidance a year ago, the draft regulations say:
The lack of clear regulatory standards has contributed to processes that have not been fair to all parties involved, that have lacked appropriate procedural protections and that have undermined confidence in the reliability of the outcomes of investigations of sexual harassment allegations.
Sexual harassment would finally stop being interpreted to cover insinuated sex jokes and criticisms of "sexual paranoia" on campus. Instead it would apparently mirror the Supreme Court's definition of sexual harassment from the Davis ruling: "unwelcome conduct on the basis of sex that is so severe, pervasive and objectively offensive that it denies a person access to the school's education program or activity."
MORE: College drops investigation of frat for 'free house tours' banner
And in another major change that could substantially limit the number of investigated reports, colleges would not be required to investigate off-campus incidents that have nothing to do with their programs.
This was the source of an amusing legal dispute three years ago between the University of Kansas and Kansas State: The latter told a judge to ignore KU's argument that Title IX requires colleges to police off-campus conduct.
Schools would only be obligated to investigate "formal" complaints to officials who can "institute corrective measures" – e.g., not your resident advisor – and only when officials have "actual knowledge" of reported incidents.
Only an 'effective substitute' to a 'live hearing' is allowed
As with DeVos's interim guidance, this draft lets schools choose between the Obama-mandated "preponderance" evidence standard and the higher "clear and convincing" standard, which roughly translate to half-certainty and 75-percent certainty of guilt.
But they must stick with the same evidence standard regardless of the alleged violation under investigation, contrary to widespread practice today that singles out sexual allegations for a lower standard.
Cross-examination between the accuser and accused would be allowed (presumably indirectly, though the Times doesn't specify), as would their full access to evidence collected during the investigation. (According to Reason, cross-examination would be required in adjudications that involve a "live hearing," and those that don't would require an "effective substitute.")
Brooklyn College Prof. KC Johnson, co-author of The Campus Rape Frenzy, sees this "effective substitute" requirement as functionally foreclosing the common "single investigator" model, where one official interviews parties separately and reaches a conclusion.
Critical followup reporting here from @robbysoave on the NYT article. Given what we've seen from single investigator models, hard to see how they could provide an "effective substitute" to a hearing if x-exam is req'd.https://t.co/zIQQcF3aUi pic.twitter.com/1ehElZuOJS

— KC Johnson (@kcjohnson9) August 29, 2018
The draft plan is also getting applause from Republican Sen. Lamar Alexander, who chairs the committee that oversees education, including the reauthorization of the Higher Education Act.
He has long been critical of the Obama administration's hubris in imposing nationwide sexual-misconduct rules at the behest of its moralizing civil-rights chief, Catherine Lhamon, without even letting the public weigh in.
.@SenAlexander statement on campus sexual assault proposed rule reported by @EricaLG – focuses on rulemaking (Trump ED) versus guidance (Obama ED). Nods to ongoing HEA reauthorization process pic.twitter.com/ODYqhDyKpW

— Emily Wilkins (@emrwilkins) August 29, 2018
MORE: Sen. Alexander rips Department of Ed for lawless overreach
IMAGE: ABC News/YouTube
Like The College Fix on Facebook / Follow us on Twitter