Lawsuit represents second Pennsylvania educator who recently sued former employers alleging First Amendment retaliation
It appears school district officials Montgomery County, Pennsylvania, have a bit of a problem with public school educators who share conservative views on their personal social media accounts.
The College Fix recently noted the story of Principal Amy Sacks of the Perkiomen Valley School District who was fired for posting conservative memes on her Facebook account. Sacks is suing for First and Fourteenth Amendment violations, as well as for political retaliation.
Now, just a few miles away in the neighboring North Penn School District, a longtime educator there is suing that district for similar reasons.
According to The Reporter, Ashley Bennett, a special education supervisor with 27 years of service, was forced to resign in July due to a Facebook post criticizing Black Lives Matter and various race protests and riots.
Bennett and Sacks are represented by the same law firm. As noted in a copy of the lawsuit provided to The Fix by one of her attorneys, AJ Fluehr, Bennett had, on her own computer, "reposted a comment on her personal Facebook profile she had seen circulating" which stated in part: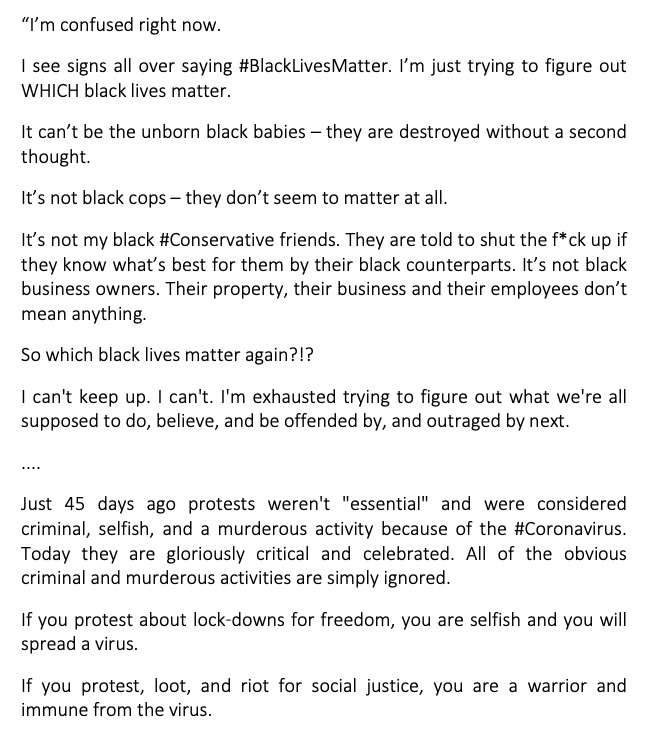 In a June 26 press release posted to its website, the district stated:
[Bennett's] comments do not align with the North Penn School District's core values. The views expressed conflict with our work to develop a community that values diversity. We strive to acknowledge, respect, understand, and celebrate the dynamics of racial and cultural differences. … The employee has been placed on administrative leave while an investigation is conducted.
Bennett's lawyers note in the lawsuit that this statement is "an astonishing and straightforward admission of viewpoint retaliation and discrimination in violation of Bennett's rights to free speech and political affiliation under the First Amendment." Further, it subjected Bennett to "a social media mob" that had complained to district officials.
Publication of this disciplinary complaint also violated state law, the suit contends. All such complaints are supposed to be kept confidential.
"As a result of [the] criminal press blitz," the suit argues, "Bennett became a pariah overnight." After seeing the statement, Bennett became "mentally and emotionally devastated, watching her career, reputation, and life crumble in a matter of hours," it alleges.
Further, Bennett was subjected to "repeated interrogation sessions" by district officials over the course of three days regarding her political beliefs, it adds.
The suit alleges North Penn Human Resources Director Mia Kim threatened to ruin Bennett's future employment prospects if she did not resign, telling her "It's different to be terminated then [sic] quitting. If you are terminated, no one will look at your resume, it speaks volumes."
In response to Bennett telling her it was "unbelievable" she was losing her job and career because people "took [her] post the wrong way," Kim replied "If other people heard what you just said they would walk away thinking that 'she really does not understand' … or get it," the lawsuit contends.
What's more, Kim allegedly told Bennett not to talk about her situation with anyone, citing "confidentiality."
Bennett "involuntarily resigned" on July 9 believing it was her only recourse, according to the lawsuit; on that same day, the district deleted the press release about Bennett from its website. Also that day, Bennett sent a letter to the district stating she would not resign, leading to an email exchange between herself and Kim about the "official" nature of her current employment situation.
"You forced me to resign," Bennett wrote to Kim. "In your letter, you threatened me again, even though you still did not tell me what I did wrong."
Not only were Bennett's First Amendment rights violated, Bennett's lawyer says, the district broke its own policies.
North Penn's "Freedom of Speech in Nonschool Settings" and "Political Activities" policies state that its board "acknowledges the right of administrative, professional and support employees as citizens in a democratic society to speak out on issues of public concern" and "to engage in political activity."
The suit names Kim, North Penn Superintendent Curtis Dietrich and Board President Martina Stoll among others as defendants.
The College Fix asked Dietrich and Stoll for comment about the lawsuit, but received no response.
North Penn School District's Director of School and Community Engagement Christine Liberaski told North Penn Now in late July that "Ms. Bennett resigned from the district and was not disciplined or recommended for termination prior to doing so. The district rejects any suggestion to the contrary and will have no further comment on this matter of threatened litigation."
"Government agents have no right to interrogate an employee about their private political beliefs and mental thought processes, especially when unmoored from any real allegation of wrongdoing," the lawsuit states. "This is a truly outrageous abuse of governmental power, and a stark warning about the erosion of constitutional protections in this country."
MORE: Principal allegedly fired for posting conservative memes on social media
IMAGE: screenshot
Like The College Fix on Facebook / Follow us on Twitter