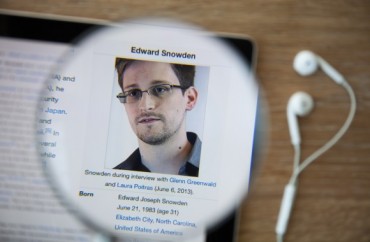 Computer ethics. Government surveillance. Privacy laws.
The implications of what Americans learned about their government and the Internet as a result of Edward Snowden's NSA whistleblowing in 2013 has produced new dynamics of study on such subjects at colleges nationwide.
This spring semester, many courses use Snowden and his actions as fodder for discourse and debate, as well as tackle his revelations about the government's mass Internet surveillance and data collection and what it all means.
Take Villanova University's "Computer Ethics" course, which considers how computers and the Internet have changed American's notions of privacy, property, power and autonomy.
"This year, our discussions will deal intensively with the controversies surrounding the prosecution of Aaron Swartz, and the revelations of Bradley Manning and Edward Snowden concerning the warrantless wiretapping of everyone's communication (but not yours, right?)," the course description states.
At the University of North Dakota, an honors class called "The Panopticon" – which references an infamous prison design in which inmates can be observed at any time, but never know when they're being watched – will debate whether Edward Snowden is "a hero or traitor."
But the professor's take on the matter might be derived by how he framed the discussion.
"Whether the voyeur in question is the government, 'God,' or Google, whether the technology used be satellite, cell phone, drone, or, more abstractly, ideology, we are all scrutinized all the time. Everywhere," the course description states. "And we condition our behavior as a result. This course will explore the 'all-seeing' nature of our 21st century disciplinary society through several lenses: politics, industry, and economics."
In June 2013, Snowden disclosed that the National Security Agency tracks and analyzes Americans' every move, including cell phone calls and locations, emails, personal Internet activity and social media posts.
Now that such metadata collection is common knowledge, higher education has pivoted its courses to examine the revelation.
At Columbia University, the "Computers, Privacy and the Law" class suggests Snowden's actions have had profound implications on the study of the topic.
"From 1999 to 2012, this course offering required an extended description. In 2013, Edward Snowden changed that," its description states, adding the focus of the class is to "learn what has happened in the relation between citizens, their States, and the Net during the last ten years."
A national security law class at the University of Texas uses Snowden to help study "how law regulates U.S. national security policies, practices, and institutions."
And Snowden's actions are tackled in an honors class offered by Georgia State University called "Geopolitics of the Internet," which promises to "engage students from a variety of disciplines who are interested understanding the political, economic, and geopolitical factors driving internet freedom and control policies."
Even English classes are getting in on the action.
One offered at the University of Miami, "Surveillance & Power," aims to "address issues of security, rights to privacy, government surveillance, and personal freedom." The documentary Citizenfour will be aired as part of the class, a film directed by Laura Poitras about Snowden and the NSA spying scandal.
It won the Academy Award for best documentary last year, among other accolades. In the documentary, Poitras meets with Snowden after he sent an encrypted email calling himself "Citizen Four."
The College Fix emailed professors teaching these courses, but they declined to comment.
Certainly Snowden is a controversial topic among Americans. According to a survey done by Morning Consult last August, only one-third of Americans want Snowden to be given a presidential pardon, while 43 percent do not, and 24 percent have no opinion.
There is no survey among university educators about what they think of Snowden, but one that comes close is a Pew Research Center poll conducted last year which found that adults "with at least some college education are significantly more likely than those who have not attended college to believe that people should have the ability to use the internet anonymously (66 percent vs. 40 percent)."
Certainly scholars in Europe have tremendous respect for Snowden.
Heralding him as the "Columbus of the Digital Age," faculty at a German University of Rostock voted to award Snowden an honorary doctorate in 2014.
The scholars had praised Snowden as one of the "great examples of civil disobedience in the history of modern civil society," alongside Ghandi, Rosa Parks, Martin Luther King and Nelson Mandela. Snowden carries on the "very democratic tradition of civil disobedience," their resolution stated.
And the UK's Glasgow University also named Snowden "rector" of the school in 2014.
College students across the nation have also shown their support for Snowden's actions.
In 2014, they launched protests nationwide against what they called "the U.S. surveillance state," forming Students Against Surveillance chapters and adding their names to an open letter to the U.S. government that demands an end to its mass Internet surveillance and data collection efforts.
Like The College Fix on Facebook / Follow us on Twitter
IMAGE: GongTo / Shutterstock.com