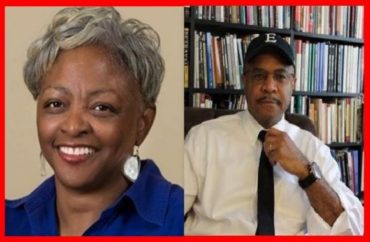 "It doesn't take a white racist 18-year-old coward to write a 180-page manifesto to convince me that I was never wanted …"
A pair of black Emory University professors, who over the years have offered up no shortage of controversial racial commentary, have now jumped in to opine on the mass shooting in Buffalo, New York.
African-American studies Professor Carol Anderson, who believes "white rage" is responsible for the contemporary ills of black America and wrote a book which dubiously claims the Second Amendment was about the maintenance of slavery, told Slate that "anti-Blackness runs so deep that this society has said that mass shootings are worth it."
"We are so afraid of Black people that we are willing to not deal with the massive gun violence by having sensible gun safety laws," Anderson said. "Historically, when the white community feels threatened, Black folks die."
Anderson said so-called "great replacement theory," in which the Buffalo shooter allegedly believed, reignited the historical need to "keep Black folks in check." This is was what motivated the killers of Ahmaud Arbery, as well as the January 6 "insurrectionists" who had to respond to "those folks in those cities who had the audacity to vote" (aka minorities, emphasis in the original).
Anderson also chided judges who rule against stricter gun laws, neatly playing off Slate columnist Mark Joseph Stern's set-up of "[judges] don't face the lethal consequences of their own rulings": "[Judges] are really protected. After the leaked decision on abortion rights, the Supreme Court was like, Oh, man, I can't believe that thing got leaked. But y'all look really ticked right now. So we're going to put some fences up and concrete blocks […] Rights for me and not for thee."
MORE: Former NYU adjunct: Buffalo mass shooter is a 'mainstream Republican'
Back in 2017, Anderson used the shooting of then-Republican House Whip Steve Scalise to complain about the GOP possibly rescinding the healthcare of "millions" of Americans.
Meanwhile at Truthout, George Yancy, the Emory professor who believes white people are inherently racist and that "whiteness" is "boisterous and blood-lusting," said "'Innocent' White People Are Also Complicit in the Anti-Black Murders in Buffalo."
"It doesn't take a white racist 18-year-old coward to write a 180-page manifesto to convince me that I was never wanted in a country apart from my enslavement and instrumental use toward the fulfillment of white racist capitalism," Yancy said.
And while the philosophy professor (whose research interests unsurprisingly include critical philosophy of race and critical whiteness studies) graciously conceded that not all white people are "card-carrying white supremacists" who would do what the Buffalo shooter did, he said it is "ridiculous to assume that white anti-Black racism is something anomalous, rare, atypical."
Yancy's evidence: police shooting blacks "relentlessly recurs and recurs" and is "not anomalous," former President Trump's remark about "shithole countries" and "microagressions [sic]-disguised-as-compliments."
There's also whites living in "monochromatically" white neighborhoods, making it "harder" for blacks to vote and whites believing they do not have an inherent privilege because of their skin hue.
A year ago, Yancy said a white professor who had used the N-word in an educational context was "selfish, pedagogically incompetent, and violent," and that anti-black racism is often disguised as "free speech."
MORE: Professor recommends 1619 Project, Robin DiAngelo for K-12 discussions on Buffalo shootings
IMAGE: U. Louisville, U. Georgia screencaps
Like The College Fix on Facebook / Follow us on Twitter