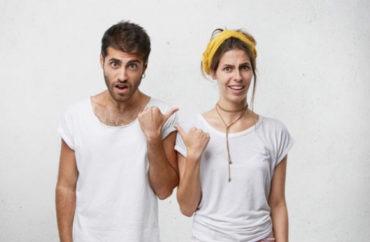 'Whenever you put white people in the title of a play, people get tense, right?'
Emory University's Tarbutton Performing Arts Center recently featured the play "Snowflakes, or Rare White People," which according to its professor/director is an examination of whiteness as a "paranoid structure."
The play takes place in 23rd century "Nueva New York" where white people are a federally "protected population." Two whites are brought to the Hall of Caucasian Peoples as a living exhibit.
Original creator Dustin Chinn notes that a 19-century "Hall of Asian Peoples" exhibit at the American Museum of Natural History is the basis for his play's premise.
Professor Nick Fesette said his Emory production "seeks to turn this narrative of racism around," The Emory Wheel reports.
"It's a fictitious future or a speculative future, where white people have become a protected species, if you will, a protected group," Fesette (pictured) said. "It's a satire of what's called the 'great replacement myth,' which is this idea that by 2040 something, white people will be the minority."
If you Google "great replacement theory/myth" you'll find many sources which describe it as a "dangerous," "xenophobic," and "anti-immigrant" white supremacist conspiracy theory.
Last year, Emory African-American Studies Professor Carol Anderson claimed the theory "reignited the historical need to 'keep Black folks in check.'"
MORE: Shakespeare's plays could be 'triggering' due to lack of sexual consent
Fesette admits his play is "very, very silly" but the humor "should not mask [its] true intention" — the "ingrained social structure of racism."
"Whenever you put white people in the title of a play, people get tense, right?" Fesette said. "That kind of tells us about whiteness. It tells us that whiteness is a kind of paranoid structure, a structure that we can't talk about … We can talk about Blackness, we can talk about people of color, we can talk about indigeneity… but don't talk about whiteness."

The characters' names are evident ethnic stereotypes: The non-white characters are named Rigoberto Rogers, Hassan Hernandez, Fei Fong-Torres and Puja, while the white characters are named Benedict and Meghan.

"It's more than just representing stereotypes," Fesette added. "It's framing them in a certain way so that the audience understands that they are stereotypes."
According to his faculty page, Fesette's research interests include critical prison studies, abolition, theatre and social justice, and  trauma theory. His latest book "examines the prison state as a performing structure that continually re-stages race and class oppression."
MORE: Zimbabwean playwright tells Harvard: Europe is to blame for her country's woes
Last chance to support student journalists during our Back to School fundraising campaign! We're very close to our goal of $25,000. The deadline for the matching offer is quickly approaching so please donate by Oct. 31 to help us meet the goal. Thank you!
IMAGES: WAYHOME studio/Shutterstock.com; Emory U.
Like The College Fix on Facebook / Follow us on Twitter