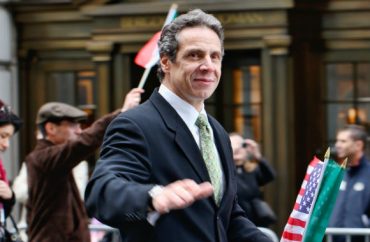 'HER CLASS WAS CALLED ETHICS IN GOVERNMENT INVESTIGATIONS'
Linda Lacewell is superintendent of New York state's Department of Financial Services. Her bio notes that she also teaches ethics as an adjunct law professor at New York University.
Maybe not for much longer.
The New York Times identifies Lacewell among the "most senior aides" to Gov. Andrew Cuomo who rewrote a report by state health officials to hide the true number of deaths in nursing homes – more than 9,000 – following the Democrat's executive order on COVID-19 early in the pandemic.
The governor had ordered nursing homes to accept hospital patients who tested positive for the novel coronavirus. New York was already hiding a crucial population from the death count: "residents who had been transferred to hospitals and died there, effectively cloaking how many nursing home residents had died of Covid-19."
None of the aides who censored the report "had public health expertise":
As the nursing home report was being written, the New York State Health Department's data — contained in a chart reviewed by The Times that was included in a draft — put the death toll roughly 50 percent higher than the figure then being cited publicly by the Cuomo administration.

The Health Department worked on the report with McKinsey, a consulting firm hired by Mr. Cuomo to help with the pandemic response. The chart they created compared nursing home deaths in New York with other states. New York's total of 9,250 deaths far exceeded that of the next-highest state, New Jersey, which had 6,150 at the time.

The changes sought by the governor's aides fueled bitter exchanges with health officials working on the report.
SUNY chancellor altered report first
Another university person gave the report its first "substantial" scrubbing, former Cuomo advisor Jim Malatras, who is now chancellor of the State University of New York system:
The back-and-forth went well beyond the usual process of the governor's office suggesting edits to an agency report, and became "intense" at times, according to two people with knowledge of the discussions.

Health officials felt the governor's office, whose opinion was conveyed by Mr. Malatras, wanted to simplify too much. They worried it was no longer a true scientific report, but feared for their jobs if they did not go along.
Only when New York University's Lacewell and Melissa DeRosa, Cuomo's top aide, took the baton from Malatras did the full death toll disappear from the report, according to the Times.
Lacewell's role was highlighted by a former student of hers, environmental lawyer Kevin Bell. "Y'all this was my law school ETHICS PROFESSOR," he tweeted Thursday night: "HER CLASS WAS CALLED ETHICS IN GOVERNMENT INVESTIGATIONS."
He then tagged the Twitter account for New York University's law school.
HER CLASS WAS CALLED ETHICS IN GOVERNMENT INVESTIGATIONS

— Kevin H Bell (@KevinHBell) March 5, 2021
MORE: Student argues it's OK for Cuomo to hide COVID stats because of Trump
IMAGE: saebaryo/Shutterstock
Like The College Fix on Facebook / Follow us on Twitter