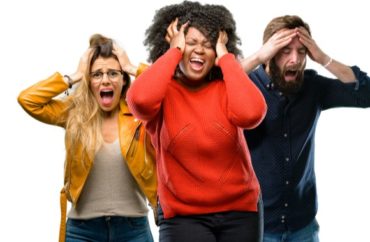 No way that new policy will 'quell the discontent of Williams's woke students'
More than 60 universities and colleges throughout the U.S. have adopted the so-called Chicago Principles, aimed at preserving free speech and expression on campus.
For a few months last year, it looked like Williams College would join their ranks. No more.
After a tumultuous two-year period of speaker disinvitations and student disruptions, the Massachusetts liberal arts school has rejected the principles devised by the University of Chicago.
An ad hoc committee on "Inquiry and Inclusion" instead gave the administration plenty of loopholes to regulate both student and faculty speech, including a "feedback" protocol that resembles a community-wide heckler's veto.
President Maud Mandel announced last month that she has accepted "in full" the 13-member committee's recommendations, which were informed by input from the campus community.
It's a disappointment for not only Williams College faculty who support stronger protections for academic freedom, but their allies across the country.
"If Mandel and the committee thinks that this policy will quell the discontent of Williams's woke students when they return this fall, they are sorely mistaken," the University of Chicago's Jerry Coyne, an evolutionary biologist and free-speech defender who has repeatedly denounced Williams, wrote in a blog post.
The Williams professor who led the charge for the Chicago Principles isn't as pessimistic, however. Luana Maroja (below), also an evolutionary biologist, told The College Fix she was "relieved" that the report was "not as terrible" as she feared.
The new direction comes at a perilous time for the private institution. Williams is under federal investigation because its student government refused to recognize a pro-Israel student group, a possible civil rights violation.
MORE: Williams asks students not to invite speakers minorities don't like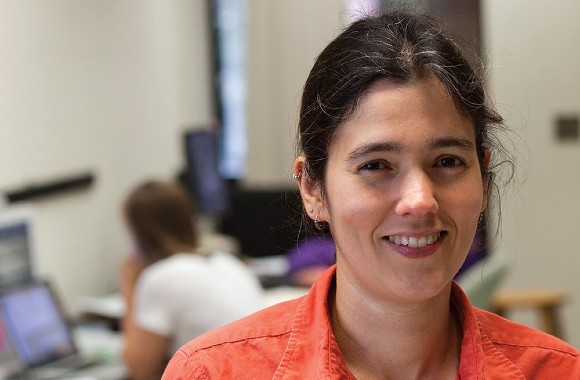 Planning ahead for 'occasions of institutional response'
The roots of the report go back to 2016, when then-President Adam Falk banned the "paleoconservative" John Derbyshire from speaking on campus.
The political commentator had been invited by student group Uncomfortable Learning, led by Zachary Wood, a black student and self-identified Democrat. Wood has since testified before Congress and published a memoir that praises intellectual diversity.
But Mandel created the ad hoc committee shortly after student outcry against Maroja's effort last fall to get faculty to endorse the Chicago Principles. Though Maroja said nearly 200 faculty initially signed her petition, "dozens" removed their names following student protests, according to civil-liberties lawyer Harvey Silverglate.
One of the professors to remove her name was the chair of the ad hoc committee, philosopher Jana Sawicki, who told Inside Higher Ed that Williams did not currently "deserve" the trust of students.
The committee report was released shortly after black student activists took over a live-streamed student government meeting, unleashing a string of profanity including anti-gay slurs.
MORE: Black students explode at white students in vulgarity-laced rant (VIDEO)
The committee's membership consists of five faculty, four undergraduate students, and staff including a librarian, rabbi and therapist. It includes both supporters and opponents of the Chicago Principles.
The report explicitly rejects the Chicago framework for evaluating campus speakers. Instead it champions the approach favored by the American Association of University Professors and writers group PEN America, as well as a concept pioneered by a University of Pennsylvania political theorist.
The committee provides five opportunities that the liberal arts college can take to "strengthen commitments to inclusion" that don't "come at the expense of free inquiry." They include planning ahead for "occasions of institutional response" and holding workshops on "best practices for event planning."
It also lays out four steps for handling the invitation of controversial speakers while still fostering "constructive dialogue" and maintaining safety. One in particular could be used to suppress unpopular views: a revised invitation form that will subject potential speakers to the feedback of the entire campus community.
'Transparency' rule gives opponents time to plan disruptions
The report distinguishes between two forms of "potentially harmful" speech that are legally protected: speech that threatens "intellectual safety" versus "dignitary safety."
The first form is incompatible with "the very heart of a college's educational mission." But Williams has a "duty to maintain" the second form, defined as "the sense of being an equal member of the community and of being invited to contribute to a discussion as a valued participant."
Hate speech is a threat to dignitary safety, and thus is worthy of institutional response, including "counter-messaging, condemnations, direct support to targeted individuals and groups, dialogue, and education." The report cites PEN America and AAUP statements as support for this institutional response. It says college leaders should be prepared to respond to "any potentially controversial event."
Williams already "prioritizes certain types of speech over others" and explicitly reject the "university" model of education, "in which a lone lecturer speaks out into a large lecture hall," the report explains.
MORE: Williams College, the next Evergreen State?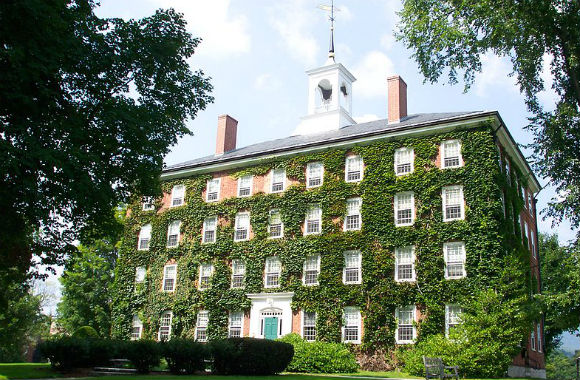 In order to promote "constructive dialogue and conversation across viewpoints," the report lays out a procedure that might lead student groups to censor themselves so as to avoid blowback from certain elements of campus.
It would require student groups to fill out an Office of Student Life form that asks them to explain the "intended goal and educational component of the event" and their plans for "handling disagreement that might arise during, or even before, the event."
Students would be encouraged to only host events that can draw co-sponsors, making it less likely that unpopular viewpoints would be heard. The college would also encourage students to favor events where "those who may wish to express dissent" can participate.
Applications to host events would also be available to the rest of the campus online, "in the interest of transparency." This would give advance notice to opponents of a given event who might want to disrupt it, shut it down or pressure organizers to cancel it.
"This, we believe, will strike an appropriate balance, upholding students' autonomy while also underscoring the responsibility and accountability of student groups to ensure" their events are "appropriate" for the "diverse" community.
College should help organize 'counter-events, post-event workshops, teach-ins'
The report emphasizes that disinvitations are "extremely rare," claiming they have only been mandated twice in the past decade, but says the option should remain available "only in the rarest of circumstances."
The committee's work also included a student survey that found students vastly favor formats that "better challenge the speaker's opinion" (68 percent) over disinvitations (20 percent) as a "best solution for controversial speakers."
The report also says the college should "prioritize the rights of protestors," even to the point of using "restorative justice principles" when protesters violate codes of conduct.
"A paramount complaint of student protestors was a sense that their concerns on a range of topics were not being adequately recognized, their voices not heard," the committee wrote.
The administration should go as far as "facilitating protest," by supporting programs to train students "in organizing counter-events as well as anticipating the need for post-event workshops, teach-ins, mediated campus conversations, or restorative justice efforts," the report says.
In her June 21 letter pledging to implement the report recommendations, Mandel (below) said she would draft a policy statement on "expression and inclusion" in consultation with the ad hoc committee and Faculty Steering Committee.
MORE: Williams under investigation for anti-Semitism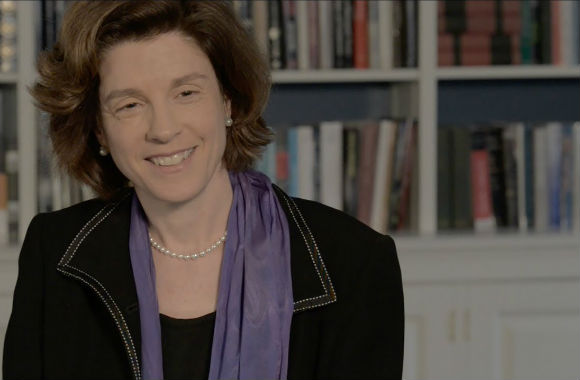 'Inclusive freedom' means administrators choose which speech to silence
A former Williams professor who has previously accused the college of suppressing conservative and Christian student speech, John Drew, also analyzed the report.
In a post for the unofficial Williams gossip blog EphBlog, the former Marxist warned that the report's explicit citation of the Penn political theorist Sigal Ben-Porath was an ominous sign for free speech on campus.
Ben-Porath coined the phrase "inclusive freedom," which qualifies protection for free speech by "recognizing the equal necessity of making sure that all are included in the ensuing conversation." The scholar has also spoken publicly against the Chicago Principles.
Under the framework laid out by Ben-Porath, "the [Williams] administration still ends up choosing which speech will be privileged and which will be shut down," Drew wrote.
He was also critical of the report's seeming indifference to other results from the student survey, which had a 25 percent response rate.
Only half of students "feel comfortable expressing their opinion without fear of judgement," and slightly more believe there is a problem with freedom of expression at Williams. The committee said it found repeated concerns about self-censorship, the "lack of conservative voices on campus and the erosion of respectful agreement."
Yet the report recommendations seem to have missed how "dis-invitations have been solely focused on harming conservative speakers whose ideas interfere with the college's institutional commitment to identity politics, feminism and critical race theory," Drew (below) wrote:
As I read the report, it is telling stakeholders there are no real problems with free speech at Williams, the administration should still be free to limit conservative speakers to appease campus activists, and the school's worst venom should be targeted at its off site enemies, the social media activists and reporters who are holding the college accountable.
Also on EphBlog, the pseudonymous blogger "David Dudley Field" showed more optimism toward the report, specifically citing its invocation of AAUP principles. The author previously argued that "every Williams faculty member will agree that the best definer and defender of 'academic freedom'" is the AAUP.
MORE: Drew says Williams campus hostile toward conservatives for decades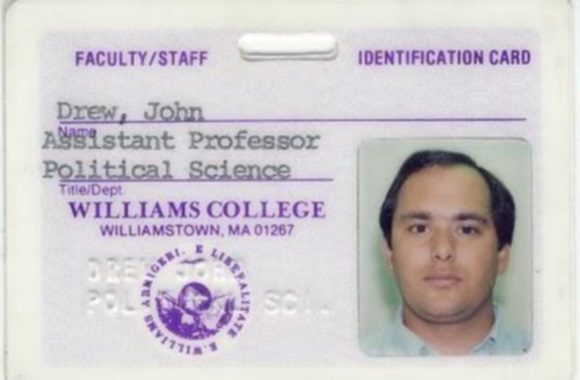 'Recipe for disaster – and ideological conformity'
The University of Chicago's Coyne highlighted the vagueness of terms in the report.
In his blog post, the evolutionary biologist complained that the report "offers no guidelines about what speech is to be seen as 'hate speech' that threatens 'dignitary safety' and therefore subject to institutional action."
The Chicago Principles put the responsibility for countering hate speech squarely on "individuals," he wrote. The institutional approach endorsed by President Mandel is a "recipe for disaster – and ideological conformity," Coyne predicted: Its probable result is "diluting free speech severely."
Coyne found one positive in the committee report: its decision not to require each group to have a faculty advisor who would discuss "the appropriateness of a speaker and its effect on the College community." This was originally under consideration, and it would have imposed "a chilling effect on inviting controversial speakers."
Maroja, the Williams professor who fought for the Chicago Principles, agrees with Coyne's take "for the most part," she told The Fix.
"I thought [the report] would require an 'advisor' approval all invited speakers," as Coyne feared, Maroja wrote in an email. "We will see what the fall brings to us."
MORE: Williams holds 'Processing Whiteness' sessions for faculty, staff
IMAGES: Aaron Amat/Shutterstock, Williams Magazine, Tim4403224246/Wikimedia Commons, WilliamsCollege/YouTube, John Drew
Like The College Fix on Facebook / Follow us on Twitter