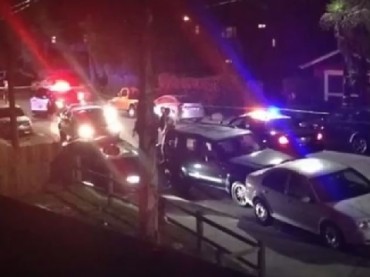 ISLA VISTA – The text from UC Santa Barbara sophomore Joselin Hernandez was gut-wrenching: "My friend is dead."
It came after six people were fatally stabbed and shot, and many others injured, in the UC Santa Barbara college town of Isla Vista on Friday night, where a 22-year-old man went on a killing spree before ending his rampage with an apparent fatal gunshot wound to the head, authorities say.
"As a student, this outrages me because IV is a place that many call home," Hernandez told The College Fix about the roughly half-square mile coastal college town. "For someone to barge in, not only to intentionally kill but harm those that were simply trying to enjoy their night, is appalling."
"This man, whoever he was, does not deserve to be talked about," Hernandez added. "He's a mass murderer and that's all I have to say about him."
Hernandez is one of the many UC Santa Barbara and Santa Barbara City College students who are shocked and angry in the wake of shooting massacre in their community.
In interviews with The College Fix on Saturday, students living within the college town situated just north of UC Santa Barbara said they are stunned, still trying to grapple with their strong emotions in the wake of the tragedy.
The alleged assailant is 22-year-old Santa Barbara City College student Elliot Rodger, who posted a YouTube video saying the motivation for his planned attack was that he was lonely, upset that women did not find him attractive. He promised to give them a "day of retribution."
UC Santa Barbara freshman and sorority member Sierra Kalman said she can't believe what took place.
"I am shocked and in disbelief that anyone would do this in our beloved community," she said, adding, "our community is already coming together to mourn the losses of the victims."
Students said they are saddened by the horrific incident, and it will take time to heal. There's talk of vigils, and UCSB officials sent emails to parents and students Saturday letting them know counseling services are available.
"My colleagues have been working throughout the night to provide support to our students, and those efforts will continue today and throughout the coming days and weeks," Michael Young, vice chancellor for student affairs, said in the email. "Counselors and student affairs staff members are at the campus's Student Resource Building today for those wishing to speak with someone in person."
As news of the tragedy spreads, UC Santa Barbara Sophomore Cody O'Connell said his university is sure to take another serious hit to its reputation, noting "I am deeply saddened and outraged by the event."
"It is extremely tragic," he said, "and does not reflect Isla Vista or UCSB students as a population."
Many students also expressed their gratitude to law enforcement for their rapid response. Santa Barbara County Sheriff Bill Brown told reporters that from the time the first 9-1-1 calls came in to the time the suspect was dead at the scene was ten minutes.
"Residents should be able to trust our emergency services and police officers to keep us safe, since they were able to save a lot of lives and take down an active shooter efficiently," said UC Santa Barbara sophomore Cody Sturges. "With Isla Vista crimes continuing to increase, I have complete faith in law enforcement and thank them for helping protect Isla Vista."
Friday's massacre comes in the wake of a riot that broke out during a massive "Deltopia" block party in Isla Vista in April. Hundreds were arrested and police deployed tear gas to disperse the crowd of drunken rioters.
Similarly, much of Isla Vista was thrust into chaos Friday night, students said, adding the shooting spree incited fear, confusion and utter chaos. Friends frantically texted friends and posted updates on social media outlets as word spread and panic grew.
"It was a hectic mess of cop cars, fire trucks, ambulances," UC Santa Barbara Junior Zoe Slayton tells The College Fix. "The violence was in multiple locations so it was confusing to piece together the whole story based on texts and calling friends."
The suspected gunman is 22-year-old Santa Barbara City College student Elliot Rodger, son of a "Hunger Games" assistant director. Rodger allegedly killed six students and hospitalized seven before he was found dead at the scene of a fatal gunshot wound to the head, initial reports indicate.
Before the rampage, Rodger posted a retribution video online revealing his motivations, specifically targeting sorority girls and popular students, saying he felt they never gave him the attention he deserved.
"I'm 22 years old and still a virgin, never even kissed a girl. And through college, 2 1/2 years, more than that actually, I'm still a virgin. It has been very torturous," Rodger says in his video. "You forced me to suffer all my life, now I will make you all suffer. I waited a long time for this. I'll give you exactly what you deserve, all of you. All you girls who rejected me, looked down upon me, you know, treated me like scum while you gave yourselves to other men."
"And all of you men for living a better life than me, all of you sexually active men. I hate you. I hate all of you. I can't wait to give you exactly what you deserve, annihilation."
The identities of the victims have yet to be released.
College Fix contributor Austin Yack is a student at UC Santa Barbara.
Like The College Fix on Facebook / Follow us on Twitter
Editor's Note: This article has been updated to reflect that three victims were stabbed in a residence prior to the Isla Vista shooting spree that killed three others.
IMAGES: YouTube Screenshots