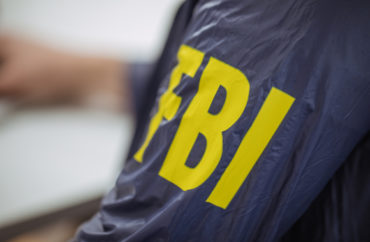 One Texas lawmaker has questioned whether threats could have been a false flag effort
The FBI has 34 field offices working on a case of a series of bomb threats made to historically black colleges and universities earlier this year — and yet there's been no arrests after about six months of investigation, Politico reported Wednesday.
"The Biden administration launched an FBI investigation into the February threats, labeling the incidents 'hate crimes' and 'Racially or Ethnically Motivated Violent Extremism,'" Politico reported. "Six months later, there have been no arrests. No suspects have been named, there have been no public statements about what triggered the threats and no clarity given as to whether the incidents were linked."
The FBI told Politico this week: "Although at this time no explosive devices have been found at any of the locations, the FBI takes all threats seriously."
On Feb. 23, the agency released a statement that said from January 4 to February 16, there were 57 bomb threats lodged across the country to colleges and other institutions made either through phone calls, e-mails, instant messages or anonymous online posts.
At a Congressional Oversight Committee hearing in mid-March, top FBI officials refused to provide details to Congress regarding the investigation, The College Fix reported at the time.
Asked specifically about the suspects' race and motive, the FBI told The College Fix in March: "We don't have anything to add to … Congressional testimony last week other than to reaffirm that the investigation of these bomb threats remains of the highest priority for the FBI."
During the March hearing, lawmakers questioned Executive Assistant Director Ryan Young about the progress on the case:
Rep. Clay Higgins (R-LA) questioned Young on why no arrests have been made.

"This year 59 historically black colleges and universities have been targeted with bomb threats," Rep. Higgins said during the hearing. "That's absolutely unacceptable and this committee is looking for guarantees from the FBI that there's gonna be arrests made."

Higgins then clarified with Young that it was true that they had narrowed it down to specific subjects who are juveniles. After Young clarified that was the case, Higgins asked if these suspects had been interviewed by the FBI.

"I can't give you any updates on the investigation," Young responded.

Rep. Andrew Clyde (R-GA) also questioned Young about the suspects, first by asking how the threats came in.

In his testimony, Young stated that 55 came by threat, 4 by email, one by instant message and one posted on a blog.

"Was the person who actually made the threat — were they capable of carrying through with the threat actually to a physical action, other than simply a verbal threat?" Clyde asked.

"I can't comment on that part of the investigation, sir," Young responded.

… Another congressman that questioned Young about the suspects was Rep. Pat Fallon (R-TX).

First, Fallon confirmed that there in fact had been no arrests made before asking, "So we haven't made any arrests, so how do we know that they're coming from six tech-savvy juveniles?"

"Some of them come from encrypted platforms and so it's been, you know, challenges with attribution," Young answered.

"So how would we know the ages of the perpetrators if we don't know who they are?" Fallon asked as a follow-up question.

"I can't go too much more into the investigation, sir, but that's — understand that this is a high priority," Young answered, adding they are using "counter terrorism" tech resources.

"So we don't know who they are but we know they're juveniles and then — how do we know what their motivations are if we don't know who they are?" Fallon pressed. "I'm confused."

"I can't go too much into the investigation sir, but based upon the statements that were made — that were received by the divisions, they were what we would call racially motivated," Young responded.

"Right, from the statements, but we don't know who it is yet," said Fallon, adding that while there are certainly legitimate hate crimes, sometimes they turn out to be hoaxes.

"Because I have just seen this before where some of them are actually not only to the point of credible, but there are folks that certainly had a racial motivation, and then there are some false flags as well," Fallon said.

While Fallon raised the specter of a "false flag," not once during the Congressional hearing was Young asked by anyone about the suspect or suspects' race, according to a College Fix review of the hearing; although some lawmakers referenced white supremacy as the motive.
Now, roughly five months after that hearing, some are crying foul, Politico reported:
"I'm beyond frustrated," said Carmen Walters, president of Tougaloo College in Mississippi, at a gathering of HBCU presidents at Charlie Palmer Steakhouse in D.C. in August. "I'm very angry that no one has been brought to justice, but there's been no conversation about the investigation at all." …

The FBI has held a few calls with campus leaders, according to Lodriguez Murray, United Negro College Fund senior vice president of public policy and government affairs. But the FBI has not accepted their March request for a classified briefing for an update on the ongoing investigation. The group pressed the FBI for a briefing again in July.

"In the year 2022, when we see all kinds of other crimes being solved systematically and seriously, the fact that this one has not been solved, which gives the tone and tenor it is not being taken seriously, it's unfathomable to this community," said Murray of UNCF, which represents Claflin University, Tougaloo College and other private HBCUs.
In the wake of the bomb threats, Vice President Kamala Harris announced grant funding for HBCUs to be used for mental health professionals and enhanced security, Campus Safety reported.
MORE: FBI probes signs defending white privilege found at Vermont universities
IMAGE: Dzelat / Shutterstock
Like The College Fix on Facebook / Follow us on Twitter