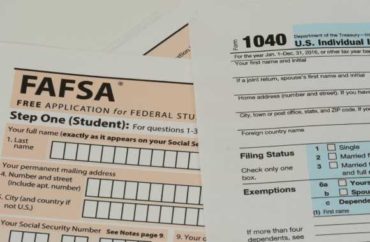 System gives a boost to families who own homes and have retirement savings, researchers say
The federal student aid formula "disproportionately" helps upper-middle-class white families, according a National Bureau of Economic Research working paper published in September 2022.
The financial aid system benefits families with substantial retirement savings and home equity because those assets are excluded from the formula that determines aid awards, or the "Expected Family Contribution," according to the report, authored by Wellesley College economics professor Phillip Levine and Dubravka Ritter, a research fellow at the Federal Reserve Bank of Philadelphia.
"The purpose of the financial aid system is to reduce the monetary constraint that families with fewer financial resources face in sending their children to college. Families with greater income and more assets are expected to pay more," according to the report.
However, "failure to count these assets [retirement savings and home equity] means that the amount of educational expenses some families are estimated to be able to afford is lower than it would have been if these assets were included in the formula," the authors continued.
"This may lead to relatively more financial aid for families who have retirement savings and own their own homes, generating an implicit subsidy enabling additional investment in education for those families," the report stated.
In other words, the current financial aid system may be subsidizing some wealthier families who have certain kinds of assets.
White students are more likely to benefit from this "implicit subsidy" than black or Latino families "because white families are more likely to hold such assets and in larger amounts," the report continued.
Even more, while families with the uncounted assets are often able to use their own funds to cover college costs, other families without the assets more often turn to loans, according to Inside Higher Ed.
Nearly a million students benefit from the 'subsidy'
The authors estimated that more than 850,000 students annually may benefit from the "implicit subsidy," representing 10 percent of all dependent colleges students and 27 percent of full-time student living away from home and attending a four-year college.
"The aggregate value of this implicit subsidy, which disproportionally benefits students from white families, is $2.3 billion per year," the paper states.
Authors Levine and Ritter concluded that all assets should be included in the funding formula so as to eliminate the advantage to the upper-middle-class and make the system more equitable, Inside Higher Ed reported.
MORE: 'Fake students' financial aid fraud potentially cost Calif. taxpayers millions
IMAGE:BDoss928/Shutterstock
Like The College Fix on Facebook / Follow us on Twitter