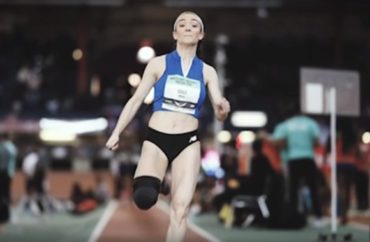 Losing 'visibility necessary to attract the attention of college recruiters'
Boys are competing in girls' track and field events in Connecticut, at the direction of the Connecticut Interscholastic Athletic Conference, so that transgender students don't feel invalidated.
They are often winning, and the girls are afraid to publicly object for fear of "retaliation," according to Selina Soule, one of the female competitors.
That's why Soule and two of her unnamed female peers are asking the U.S. Department of Education to investigate CIAC for Title IX violations.
They contend CIAC's new policy allows "boys who are male in every biological and physiological respect—including unaltered male hormone levels and musculature—to compete in girls' athletic competitions if they claim a female gender identity," according to the Title IX complaint filed on their behalf by the Alliance Defending Freedom.
The decision to let biological males compete has "deprived many girls of opportunities to achieve public recognition, a sense of reward for hard work, opportunities to participate in higher level competition, and the visibility necessary to attract the attention of college recruiters and resulting scholarships," states the complaint, filed in mid-June.
This policy already has resulted in negative outcomes for Soule and the other unnamed minors in the complaint.
MORE: 'They took away the spots of deserving girls'
Two biologically male students, Andraya Yearwood and Terry Miller, have dominated the sport since they were allowed to compete against biological females. The two of them together have won as many women's state championship titles (15) as did 10 girls who identify as girls in 2016, according to the complaint.
Yearwood and Miller have also "taken more than 40 opportunities to participate in higher level competitions from female track athletes in the 2017, 2018, and 2019 seasons alone."
Soule shared her frustration with The Daily Signal in May. Two biologically male competitors took the spots ahead of her in the 55-meter dash, preventing her from competing in the New England regionals in front of college coaches.
"Everyone is afraid of retaliation from the media, from the kids around their school, from other athletes, coaches, schools, administrators," said Soule, who alleges official retaliation against her for speaking out in the complaint.
"They don't want to drag attention [sic] to themselves, and they don't want to be seen as a target for potential bullying and threats," she said.
Coach allegedly threatened to badmouth dissident female athlete to recruiters
The CIAC policy on transgender students differs from the NCAA's, which requires males to take testosterone-suppressing hormones for at least a year before competing in a female sport. The only requirement in CIAC policy is that a student subjectively identify as the opposite sex.
The complaint features more than a dozen tables listing competition results and times for female athletes, and how biologically male athletes affected their placements. It says these are only "examples."
It notes that Miller did not place in boys' track competition in 2017 and winter 2018. Miller went on to great success only after competing in female track events starting that spring.
Biological males took first place in 13 out of 14 events for females, and 23 out of 28 when including second-place awards, in seven state-level competitions. They won "51 opportunities to participate in a higher-level state competition," compared to 31 for girls.
The girls who filed the complaint also allege that the CIAC has participated in intimidation and retaliation against those who oppose the male-inclusive policy.
One of the mothers of the unnamed complainant repeatedly complained to the CIAC about the "discriminatory impact" that the new policy had on her daughter. The CIAC did not provide a "substantive response," and Connecticut school officials attempted to dissuade her from filing a Title IX complaint, according to the complaint.
MORE: Competed as man last year, won championship as woman this year
Soule contends that her mother's outspoken opposition to the policy led her coaches to mistreat her.
Her track coach made her perform workouts that are uncommon for short-distance sprinters like her, "and has forbidden her from competing in any high school track and field event unless she completes them," the complaint reads.
Another coach told Soule and her father that if a college recruiter asked about her, "he would not be able to give a good report about her."
The complaint cites an anonymous female student quoted in The Daily Signal on her fear of retaliation for speaking out.
"There's really nothing else you can do except get super frustrated and roll your eyes, because it's really hard to even come out and talk in public just because … just immediately you'll just be shut down," she said.
MORE: Trans girls win 1st, 2nd at state track championships
The feds already approved transgender policy?
The complaint asks the government to forcibly overturn CIAC's transgender policy, and ban it from letting students compete in girls' athletics who are "in all physiological and hormonal respects males."
Soule and the other two complainants also want records of past races to be revised to retroactively disqualify biologically male students from the female events. CIAC should also be ordered by the government to issue a press release giving credit to every female who would have placed if not for the policy.
Finally, the Department of Education should declare that CIAC's policy violates Title IX. The complainants asked for a quick investigation so girls do not lose any more opportunities to boys in their competitions starting this winter.
CIAC did not respond to The College Fix's request for comment. But Glenn Lungarini, its executive director, told The Hartford Courant that it discussed the policy language with both the Boston office of the Department of Education's Office for Civil Rights and Connecticut's human rights commission.
MORE: The end of women's sports?
Yearwood and Miller, the biologically male athletes identified in the complaint, attacked the complainants in a statement to the Courant.
"I am a girl and I am a runner," Miller said. "I participate in athletics just like my peers to excel, find community and meaning in my life. It is both unfair and painful that my victories have to be attacked and my hard work ignored."
Yearwood highlighted the "discrimination that I face as a young black woman who is transgender. … Every day I train hard — I work hard to succeed on the track, to support my teammates, and to make my community proud."
Miller is also black. Their lawyers at the ACLU emphasized their race, which is objective, as well as their gender identity, which is not, in a statement to the newspaper.
MORE: You're racist if you oppose men in women's sports?
IMAGE: The Daily Signal/YouTube
Like The College Fix on Facebook / Follow us on Twitter